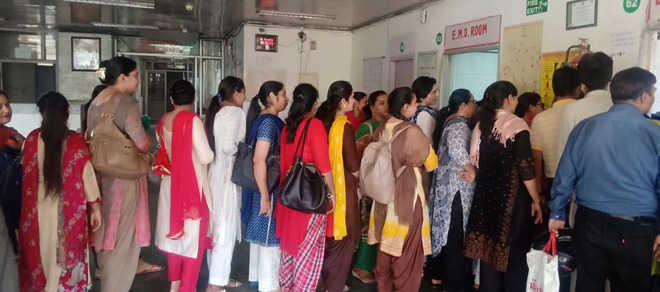 tribune News Service
Amritsar, May 4
Employees at Jallianwala Bagh Martyrs' Memorial Civil Hospital have decided not to mark attendance on biometric machines which have been installed recently. They say that they have to stand for a considerable time in queues to mark their attendance every morning and evening. The hospital had installed four attendance machines, but as three are lying dysfunctional, all of them have to use the single machine.
A fortnight ago, the Employees' Welfare Association of the hospital had given a memorandum to the authorities concerned demanding that either the non-operational machines be rectified or the employees should be given exemption from biometric attendance.
However, as the machines have not been repaired, the employees are up in arms against the authorities. They have said that they will not mark their attendance until all four machines are made operational.
Employees' Welfare Committee chairman Rakesh Sharma said, "Long queues are seen at the machine every morning and evening. Sometimes, it takes up to one hour just to mark the attendance. We are not opposing biometric system. We want all the machines operational."
An employee, Jasbir Kaur, said, "Even if employees reach on time, they are marked as late comers only because they waste time in queues. The problem is faced daily, but the authorities have failed to take action. As the employees have to feed their Aadhaar numbers in the machine before marking their attendance, it takes a long time."
The association has also submitted a memorandum with the civil surgeon in this regard. Civil Surgeon, Dr HS Ghai said instructions had already been issued for the repair and the machines would be made operational soon.
Top Stories