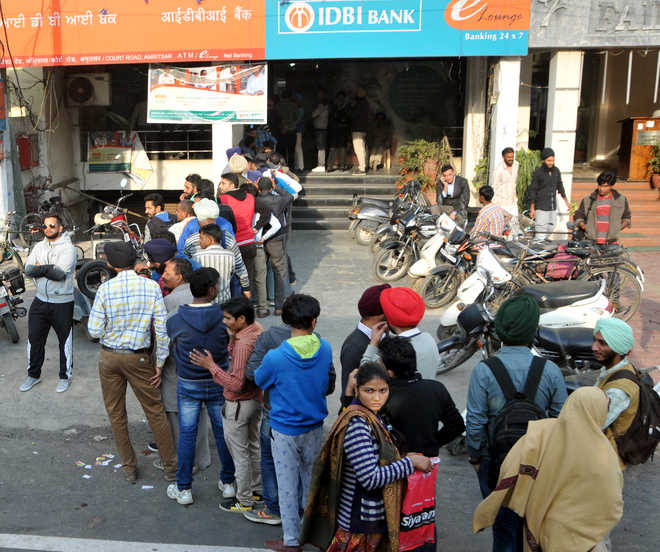 Manmeet Singh Gill
Tribune News Service
Amritsar, December 3
As people continue to queue up outside banks even after 25 days of demonetisation of old currency notes of higher denominations, the construction business has been hit hard as people have postponed their plans for renovations or even new construction.
As payments to masons, carpenters, painters, electricians, plumbers and others involved in construction jobs are mainly in cash, their livelihood has been threatened.
Rajdeep Singh said, "Before demonetisation, I was running after painters to get my home whitewashed. Presently, they are coming to me and asking for work." He said the workers are so desperate that they agreed to be paid through cheque.
Baljinder Singh, a mason said, "People are barely managing their own expenses. It seems that construction and renovation works have become a luxury which people no more afford." He said that they are sitting idle for the past many days.
US Walia, who sells construction material, said, "The business has been hit hard. At present the only construction work going on is that of malls or government work. Even few who hire big architect firms for construction of homes are working." He said that small artisans who operate at the mohalla level are sitting idle.
While the businesses have gone down by almost 80 per cent, there is a surge in demand of EDC (Electronic Data Capture) machines used to facilitate credit and debit card payments. Amanpreet Singh, a trader in the Putlighar area said, "The bank has asked me to wait for two or three days. But we have to send back customers daily as they do not have cash and we do not have the machine." He said many shopkeepers are accepting old currency even as they know that they can face problems, but people have to earn somehow to be in business.
Meanwhile, queues outside banks start coming up early in the mornings, as people do not want to return home empty handed. "The rush of people outside banks has increased as salaried people have pay for tuitions of their children, electricity bills, house rent, grocery bills during the first few days of the month," said Jagwinderpal Singh.