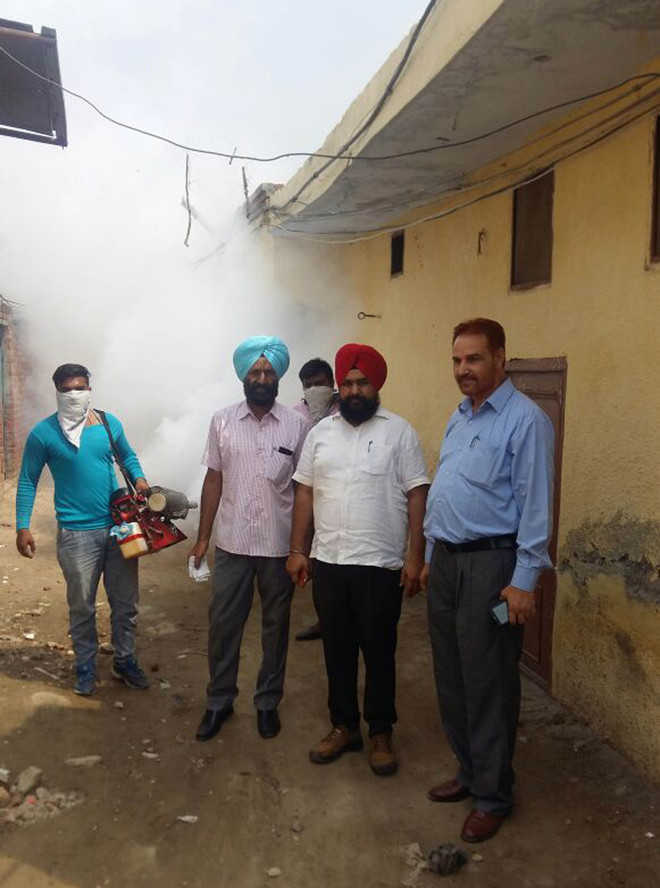 Tribune News Service
Amritsar, October 21
The Health Department claims to have recorded decrease in frequency of dengue cases, but a total of 70 new patients have reported from the district since October 15. With these cases the total count of dengue patients in district during the current season has reached 1,023.
The maximum number of dengue cases reported in any previous years is 856. Health officials said they were carrying out fogging continuously in areas from where dengue patients were reported.
"We are even going beyond our jurisdiction to conduct fogging. Although the walled city is under jurisdiction of the Municipal Corporation, we send our teams for fogging in the area if any case is reported from there," said district epidemiologist, Dr Madan Mohan.
He said two teams of the department were carrying out fogging daily. "We only have hand-held fogging machines. Our objective is to conduct fogging in 100 homes surrounding the patient as we assume that dengue mosquito is present in the area," he said.
Despite efforts of the Health Department to start fogging the exercise was delayed by the Municipal Corporation, which resulted in spread of dengue in the city. Almost 80 per cent of dengue cases reported from district are from the city areas.
Dr Mohan said sometimes they found it difficult to locate a patient's house for conducting fogging when health facilities failed to register his/her address.
"We have talked to officials manning health facilities and asked them to keep record of residential address of patients, who tested positive for dengue. It will help in preventing the spread of disease in the area," he added.