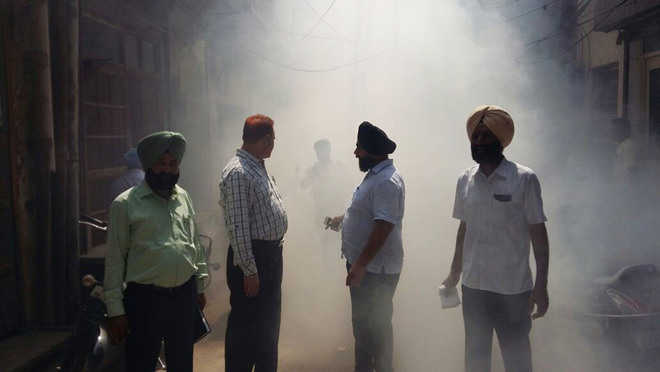 Tribune News Service
Amritsar, September 5
The number of dengue patients in the district has reached 72 with the Health Department confirming new cases today. The department has also sent samples of 12 more patients, suspected to be suffering from dengue, who were admitted to various hospitals in the city today.
Out of the total cases, 46 patients, which is the maximum number, were from the walled city areas. A special fogging drive was undertaken by the Health Department in various parts of the walled city, including Hathi Gate, Bambaywala Khoo and Dhab Basti Ram.
District epidemiologist, Dr Madan Mohan, said dengue larva was also detected from water standing in flower pots, old tyres and utensils in various homes. He said larva was also detected in a water utensil of cows at a shelter in the area.
The health team destroyed larva and encouraged residents to participate in drive against dengue, he added. "The people must not let water accumulate in utensils or water coolers," he said.
Health officials stated that fogging was done in localities from where positive case of dengue was reported. "After a patient tests positive we assume that aedes aegypti, the mosquito which causes dengue, is present in the locality. A team of sanitary inspectors is immediately dispatched to the area so that other residents can be saved," said Dr Mohan.
Isolation wards had been prepared for patients at government health facilities, he added.
At least 80 per cent of the total cases reported had already been discharged after treatment, he said.
Top Stories
Relief, ecstasy & vindication | Hockey team rewrites history