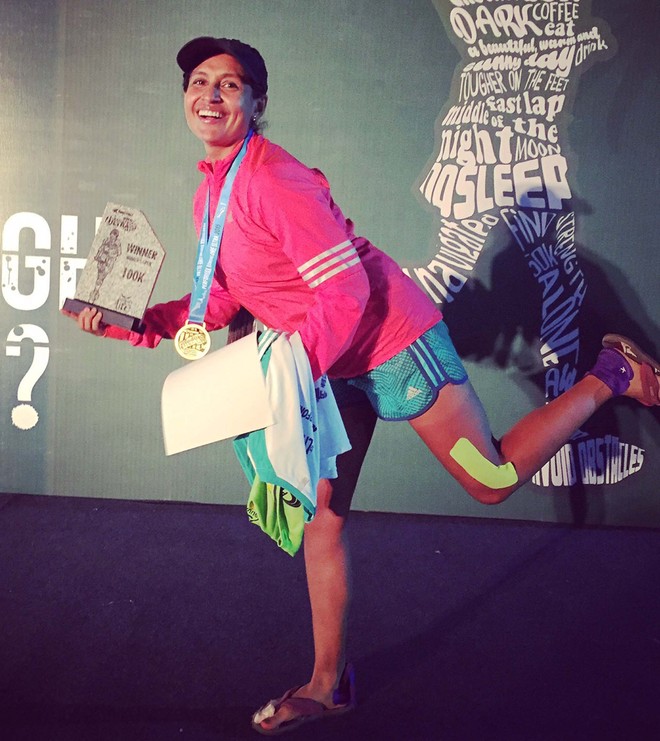 Neha Saini
Tribune news service
Amritsar, November 15
Running is one of the basic human characteristic. It might not be a popular thing to do in the modern sense of the word, besides being made a fad, sometimes for sake of health. But for Sumedha Mahajan aka Bandhu, running is a passion that changed quite a few conceptions of life as she knew it.
An entrepreneur and an author, Sumedha has won the Ultra International Marathon in the women category, held in Bengaluru recently. She covered a distance of 100 km in 14 hours and 11 minutes. One can consider it exceptional as she did it while struggling with a severe spinal injury, chronic diarrhoea and an asthma condition.
Sumedha has another confession to make, "I ran in one of the biggest ultra marathons of the world without any preparation." She says, "Here's how it all happened.
I was in Bengaluru for a business meeting, attending a client when someone said that Ultra International Marathon is being held in the city. I immediately made up my mind to participate, despite having an injured spine. On the day of the marathon, I started just to finish the run, not actually win."
Sumedha's endurance was tested to the extreme as dehydration and diarrhoea took a toll on her fitness. She said, "I lost an hour and half because of the problem, but managed to cover up in the last leg."
She turned author with her bestseller book "Miles to run before I sleep recently. The book is a memoir of Sumedha's experience in running at Greenathon held in Delhi in 2012 and covering 1,500 km stretch through seven states in 30 days, a feat worth mentioning. She was the only woman participant in the team of six runners, headed by Milind Soman. Sumedha has been a victim of a hit and run before participating in Greenathon. She took a hiatus from running for three years after 2012 because of her injury in lower spine. She says, "I did not run for three years as I was completely bedridden and had to struggle even to walk from one place to the other. But I had this urge to prove myself that I will not be bogged down by my physical restraints. The run was painful and difficult, but not impossible."
Coming home for Diwali, Sumedha is now planning to translate her book in Hindi and Marathi. "Writing the book relieved me, like some weight has been lifted off my chest. After the exulting experience of Greenathon, I wanted to share how my life changed," she adds. She says, "I hope to continue running and writing, may be, to inspire others. Just like the title of my book."