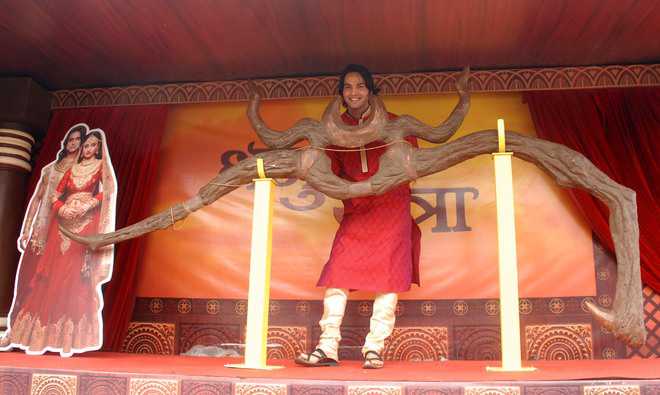 Tribune News Service
Amritsar, January 14
A team of Star Plus flagged off Shiv Dhanush Yatra, which will be travelling across 107 cities of India in 15 days, to promote the upcoming episodes of the TV show "Siya ke Ram". Based on the legend of the mighty "Shiv Dhanush" that Lord Rama lifted to win the swayamvar of Sita, the yatra is travelling with one of its lead stars and the dhanush portrayed in the show to engage people in various engaging games.
While in city Dhanush Yatra brought alive the story of Sita's swayamvar with the actor Pratham Kuwar, who is playing the role of Shatrughan, in "Siya ke Ram". Since inception, the show has successfully managed to portray the nuances of Ramayan, which were never seen before on Indian television.
While most of the viewers are aware about the swayamvar very few know about the actual relevance of the "dhanush". The "Shiva Dhanush" played a very significant role in the Ramayan saga, by virtue of which Prince Ram and Sita met.
Pratham said, "Ramayan is a rich heritage of our country, which we all cherish and also pass on from one generation to another. It's is a very big honour for any actor to be associated with such a prized possession."
He said, "The show is taking a big turn in the narrative. Sita will soon be married off to Ram and begin the journey of marital bliss. While going towards the swayamvar, we want to reach out to the audience and invite them to be a part of this epic saga, which will be soon going on air."
The show has actor Ashish Sharma playing the role of Ram and veteran actors Bijay Anand and Marathi actress Bhargavi Chirmule play King Janak's wife and Sita's mother respectively. DalipTahil plays Dashrath.
Top News
According to Rushdie's agent Andrew Wylie, nerves in his arm...
Natwar was Minister of State for External Affairs when Rushd...
All the four employees were dismissed from service under Art...
State government issues notification, move expected to save ...
The exam was postponed for 11,000 candidates to accommodate ...