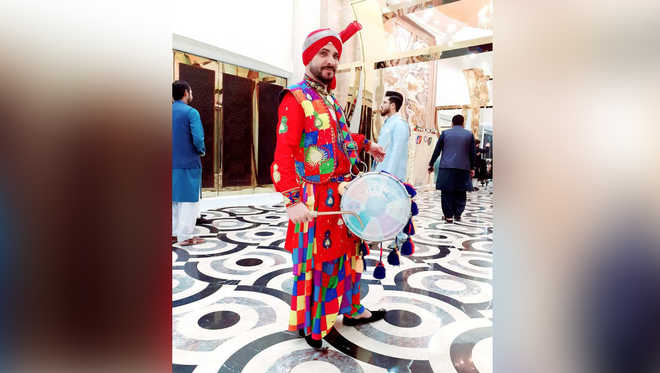 Neeraj Bagga
Tribune News Service
Amritsar, October 22
Punjabi folk instrument 'dhol' has successfully overcome competition posed by various forms of visual and audio media in contemporary age.
Festive season offers 'dholis' a good business. Starting with nine-day navratras and covering Diwali, the season extends upto marriage season, locally called 'saye', which lasts for some months.
All these occasions together offer a soaring business to about 2,000 'dholis' in the border district. Vikaas aka Billa, a dholi, said the season provided a regular income unlike rest of the year. All other vocal instruments needed support to promote them but dhol had adjusted to the changing social and cultural milieu to survive.
Apart from conventional sources of engagement, dholis are now also hired by schools to train students in the art and are called in various parts of the country and even abroad to showcase their talent. Rehan Jogi (38) is a master trainer. He had been invited thrice to perform in Dubai. Besides this, he has displayed his acumen on the instrument in Chennai, Ahmedabad, Mumbai, Kolkatta, Vrindavan and many other cities in the country.
According to him, it required passion to learn the art of playing 'dhol' and master various tunes. An adept player could produce musical notes of traditional folk, which has varied forms such as tappe, boliyan and others, lehri, disco and many more. Each technique required tons of efforts on the part of the player.
Traditionally, dhols were made from tahli (sheesham). Now, they are also being made out of fiber. Whatever may be the material, cost of a piece starts from Rs 6,000 and goes up depending upon the material.