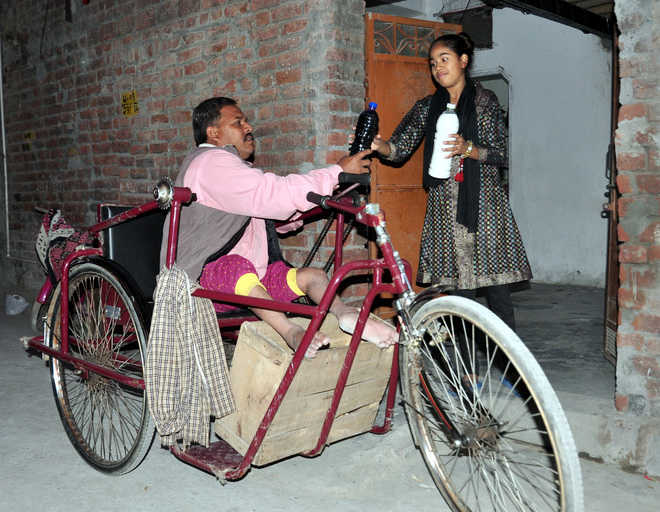 Charanjit Singh Teja
Tribune News Service
Amritsar, December 3
The world celebrates the International Day of Disabled Persons to spread awareness about the disability issues and mobilise support for the well-being of the people with disabilities. Hardeep Singh (42), a resident of Tung Bala area, may not be aware about it but one thing he certainly knows about himself that he doesn't want others to sympathise with him for his cent per cent physical disability.
Though he possess a disability certificate issued by the state government, he has proved that he is not disabled, but differently abled. He sells phenyl and cloth whitener (neel) door to door on his tricycles to make his both ends meet.
"My disability was a major huddle in my schooling. I dropped out after primary school. I was totally dependent on my parents till the age of 20. I am from a labourer family so can't beg money or food from someone. Later, my father couldn't work due to his old age, so I bought a second hand tricycle started selling phenyl and neel 10 years ago," he says.
When Hardeep Singh started earning livelihood, he requested his father Joginder Singh to search for a suitable match for him. The parents arranged his marriage and now couple has two daughters.
"It was very hard to sit idle at home. Though the governments make tall claims, getting employment for disabled persons is almost impossible. Whenever I went to seek jobs, the people at helm used to offer me some money. I felt bad over such unnecessary sympathy. So I decided to start my own business. I earn half than what a labourer earns per day, but I am satisfied," he adds.
Residing in a single room house at Tung Bala area, Babba is unhappy with whatever the government is doing for the disabled persons. "The government should arrange for skill development for the disabled persons so they don't get dependent on someone. They have schemes but there is no implementation on the ground level," he rues.
Top Stories