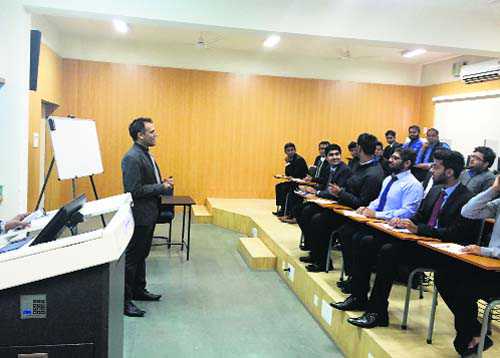 Tribune News Service
Amritsar, December 14
Wishwas Julka, vice-president, Global Tata Group Sales at Tata Technologies, New Delhi area, visited the IIM campus to interact with students here.
The session began with a formal introduction of students and moved from the current industrial trends to various specialisation areas currently available. Wishwas said, "Get a clear vision of where you want to go, why and what will you do in that area."
He demonstrated what were the overall roles and responsibilities associated with each of the specialisations in the industry and what challenges one faces as a manager. He said, "Whatever input you give, a similar output will come back to you. Come out of your comfort zone and give it your best shot."
In no time the formal conversation with Wishwas turned to a friendly talk wherein he discussed individual interests of students and showed them the importance of their hobbies in the job profile they choose.
He said, "Be honest, work hard, keep your principles intact and I promise you will definitely reach your goal one day. Nobody can replace your hardwork." According to him, "Do mistakes fearlessly... every human does, but make sure you don't repeat it"
Wishwas is seen as a 100 per cent achiever of his sales target and with excellent leadership skills, besides he is an amazing team player.