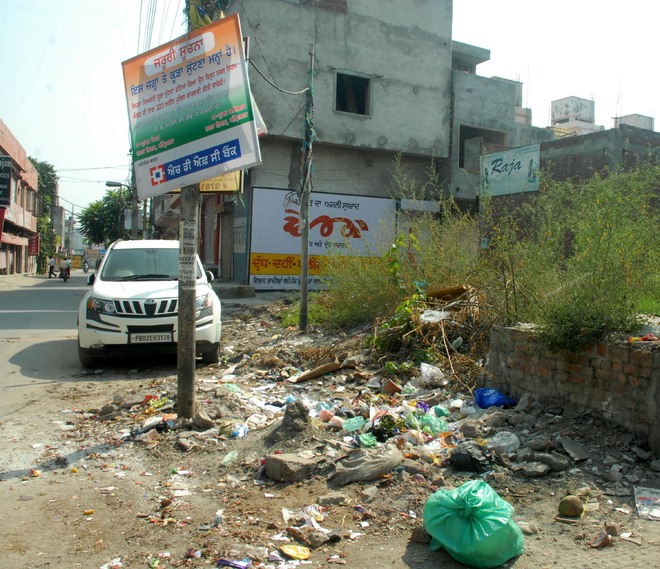 Tribune News Service
Amritsar, October 6
The municipal corporation's move to penalise those littering the streets is no deterrent for the city residents as they continue to dump garbage on the roadsides right under the notices put up for imposing penalty on anyone littering the streets.
Besides, lack of civic sense among the residents, it also reflects lack of will on part of the MC authorities to implement its orders. On various points at the Batala road, garbage heaps has piled up right under the warning signs installed by the municipal corporation. "The MC has got these warning signs installed but it has done nothing to implement the rules. It should have been better if few people were issued challans and it could have conveyed the message to others," said a resident, Himmat Singh.
Initially after the MC had taken the decision to penalise people who throw garbage on the roads, it had issued few challans but then the enthusiasm shown by it seems to have faded away.
Apart from roadsides, the garbage heaps can be seen in abundance in and around God Bagh, located on the back side of the railway station. The place is also used for a taxi stand but the garbage heaps are growing with each passing day as the nearby shopkeepers continue to throw waste on the place.
Another resident Ashwani Anand said, "There is a need to create awareness among people but this cannot be done until the municipal corporation sets its own house right. The city is witnessing the problem off non-lifting of garbage for the past few months and in such circumstances people cannot be blamed for this mess."
He said the MC should place dustbins on all the roads and after that if somebody throws garbage on road, heavy penalty should be imposed.