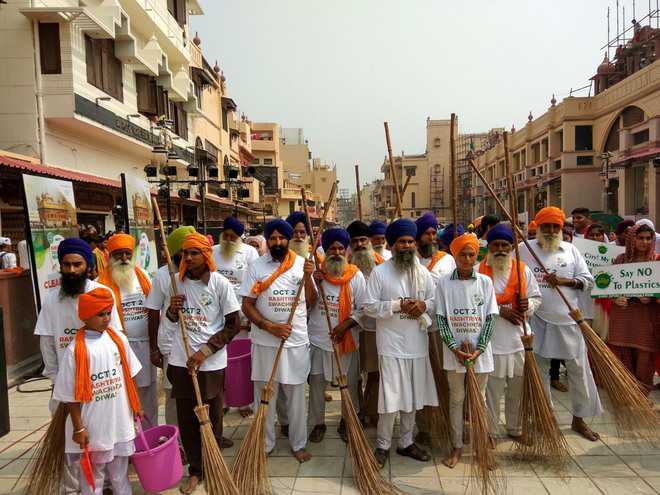 Tribune News Service
Amritsar, October 3
The city of the Golden Temple, Amritsar, features in the list of the 10 iconic places in India under the Swachh Bharat programme to be made clean and pilgrim-friendly. Ever since, efforts have been made to initiate pilot projects on cleaning the Golden Temple periphery and engaging volunteers to be a part of the similar campaigns at other religious institutions in the city.
Several non-profit institutions recently became a part of the 'Cleanathon' held on October 2 as part of the Swachh Bharat campaign. The teams comprising EcoAmritsar, students from the Khalsa College of Engineering and Technology as well as representatives of the Panj Sarovar Sewak Jatha carried out a clean-up drive at Harimandir Sahib and its periphery. The Jatha has been doing night sewa of the routes to the five pious sarovars of the city each night for the past five years.
While the passageways to the Golden Temple have been made walkways and have been well paved, energy-efficient lighting, mechanised cleaning equipment and visually improved facades shall ensure an enhanced pilgrim experience. Baba Kulwant Singh, who has been leading the sewa to clean the surroundings every night at the Golden Temple, said though the successful implementation of the project has given impetus to more such volunteer campaigns, the message of being responsible for maintaining cleanliness all around has yet to reach out to most people. "Not just religious but every institution should lead by example and people should become responsible towards their surroundings," he said.
The Punj Sarovar jatha cleans the Golden Temple periphery every night from 10 pm to 3 am and on festivals they perform the sewa during the day as well. "Sometimes, the tourists and inquisitive onlookers join us," said Baba Kulwant Singh.
Meanwhile, Gunbir Singh, Chairman, EcoAmritsar, praised the district administration for lending support to the programme, "It is heartening to note that the new administration headed by the Deputy Commissioner, Varun Roojam, and Municipal Commissioner Giri is providing the required leadership to bring about a positive change to the city, supported by the state and the national schemes. We feel that our five-year goal to make a difference by 2017 has been provided an impetus under this programme since the government has joined hands with us citizens and NGOs for cleanliness. There is a cause for expectation of better times, cleanliness and visible change in the management of civic affairs of the city."
Top Stories