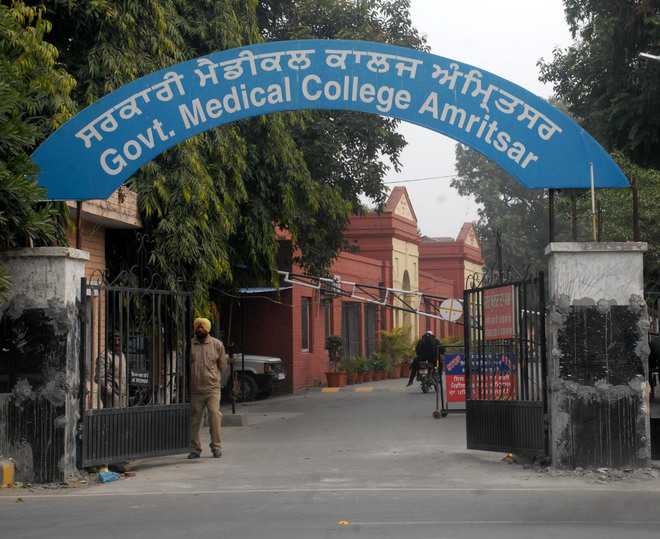 Tribune News Service
Amritsar, February 12
The authorities of the local Government Medical College (GMC) are hopeful that the number of MBBS seats will increase from 150 to 200 from the next session. The college authorities have submitted a certificate with the Union Ministry of Health stating that work had been initiated to overcome shortcomings listed by a team of the Medical Council of India (MCI) during an inspection in December last year.
Principal of the Government Medical College, Dr BS Bal, said, "The MCI has given us a month's time to remove the shortcomings. We are already on the process and work has been initiated to remove deficiencies." He said the work would be completed before the MCI team visits the GMC for a re-evaluation inspection.
Earlier, in December last year, a four member MCI team had raised objections over the proposal of increasing the MBBS seats citing staff and infrastructure shortage. Dr Bal said most of the objections raised by the MCI team were of minor nature. The work was started immediately to improve infrastructure, he added.
The college has been trying for getting more MBBS seats for the last five years. However, every year, objections were raised by the MCI citing staff and infrastructure shortage. Dr Bal said, "This time we are very close as the college has already complied with most of the eligibility criteria. We have also received positive response from the ministry after which we are hopeful that the MBBS seats will be increased."
The Principal said the work on two building blocks and a students' centre was also going at a fast pace and the project would be completed within a span of eight months. He said various new facilities were added at the college in recent years, which added more weight to the proposal for increasing MBBS seats at the medical institute.
Top News
Jammu and Kashmir Lieutenant Governor Manoj Sinha and politi...
Cops say case cracked within three days with the arrest of a...
Indonesia football association suspends league to investigat...
Samajwadi Party patron is under treatment in Gurugram hospit...
DGP dismisses Mansa CIA Incharge, FIR registered against err...