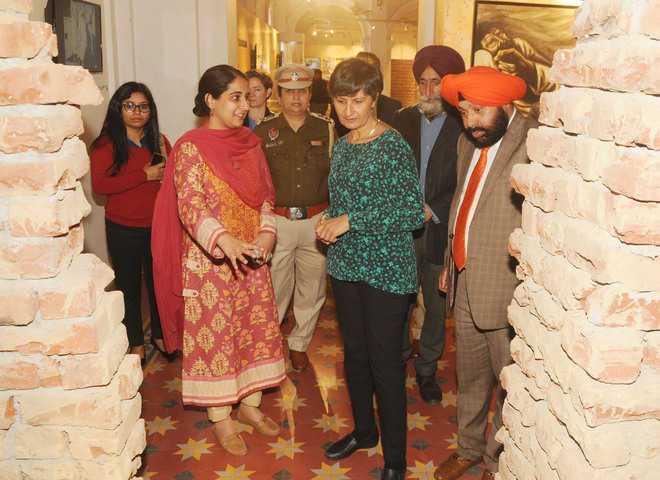 Tribune News Service
Amritsar, February 18
Australian High Commissioner to India Harinder Sidhu today said the gruesome incidents of the Partition would guide the posterity to value multiculturalism.
After viewing the Partition Museum, she said the museum would continue to inspire the generations to uphold the values of plural society and respect all faiths.
She also looked at the picture of her father Ajaib Singh Sidhu in the museum as he was also a Partition survivor and was interviewed by the Partition Museum.
Accompanied by the staff of Australian High Commission, she visited the galleries of the museum and spent time listening to her father's interview in the Gallery of Migration.
She penned a note on the Tree of Hope at the museum. "The Partition was a terrible tragedy. But the test of people and of nations is how we carve out a future together. My wishes for a future of peace, understanding and fellowship between India and Pakistan, for the benefit of all," she wrote.
"It is a wonderful museum of tears, tragedy and hope. I'm so happy to be connected with your story, in a small way, through my father's story," she said.
She also interacted with Partition survivors — Mohinder Kaur (84), Dr Santokh Singh (77), Gurbachan Kaur (80) and Jagir Kaur (85) and listened to their surviving ordeals.
She migrated as a child with her family to Australia from Singapore. She took over as the High Commissioner to India in February 2016.
The Partition Museum is the world's first Museum dedicated to the Partition of the Indian sub-continent in 1947. It uses multi-media exhibits including oral histories, archival footage, historical newspapers, official files, as well as personal documents and objects carried by individuals and families who lived through the Partition to tell the story.
Top News
Odisha government has issued helpline 06782-262286. The rail...
At least 50 people died and 350 were injured in a three-way ...
12837 Howrah-Puri Superfast Express, 12863 Howrah-Bengaluru ...
WFI chief demanded sexual favours in lieu of supplements and...
Said agitation will be intensified by holding panchayats acr...