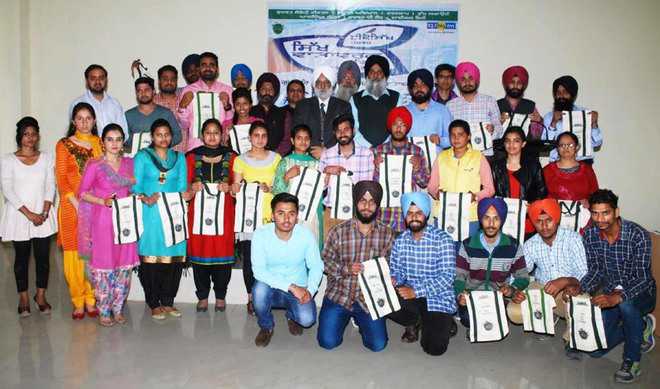 Tribune News Service
Amritsar, March 15
The concept of Sikh Environment Day (SED) was conceived in 2010 by EcoSikh to celebrate the Gurta Gaddi Diwas of the seventh Master, Sri Guru Har Rai, as a day of celebrating nature and being in harmony with the environment. In 2013, the five Singh Sahibaan ratified the celebrations from Akal Takht and motivated the faithful internationally to celebrate the day with fervour and dedication. In 2014, the SGPC, by a directive, advocated all institutions to adhere to an ecologically friendly approach and take incremental steps to evolve sustainable practices.
This year, the celebration has gathered broader traction with events happening in scores of nations and cities across the globe.Punjab gurdwaras, educational institutions, communities have organised a host of awareness events, including seminars, katha, processions, assemblies, tree-plantation and cleanliness drives in solidarity with environmental concerns. The focus of SED was to Conserve Energy (Go LED); shun plastic plates, glasses and carry bags, consume and produce organically produced non-toxic food; harvest and save water; plant trees and avoid polluting practices. Addressing the gathering, Gunbir Singh, chairman, Dilbir Foundation, said in this day and age of climate change, these messages are of huge import and set a direction of leadership in sensible living and naturally harmonious lifestyles.
In Amritsar region, institutions under the Khalsa College Charitable Society led the celebrations with awareness interactions, tree-plantations, lecture series and paper presentations. The Khalsa College of Engineering and Technology's focus was on Green Buildings and energy conservation while the College of Law had a seminar on environment. Also Girls School Heir had a student eco assembly. Eco assemblies were also held in government schools at Kila Jiwan Singh, Butala, Tarn Taran, Ramdas as well as other schools in the region. Many institutions shall continue to run programmes during the course of the week.
"SED has become a beacon of sustainable thought for the world faiths. The firstorganic produce has become a part of the Langar at the Golden Temple, which in itself is a message of significance. The SGPC has committed itself to a changeover to sustainable practices and toxin-free food consumption while the Punjab Government has banned plastic in the state from April 1 this year. This is indeed satisfying and motivating."
Top News
Congress leader has been trapped in the consequences of the ...
About 47.58 lakh government employees and 69.76 lakh pension...
LS secretariat has sent notification to EC to declare Wayana...
Prominent leaders stopped by police and detained at Vijay Ch...
Overrules a 2011 verdict by a two-judge Bench