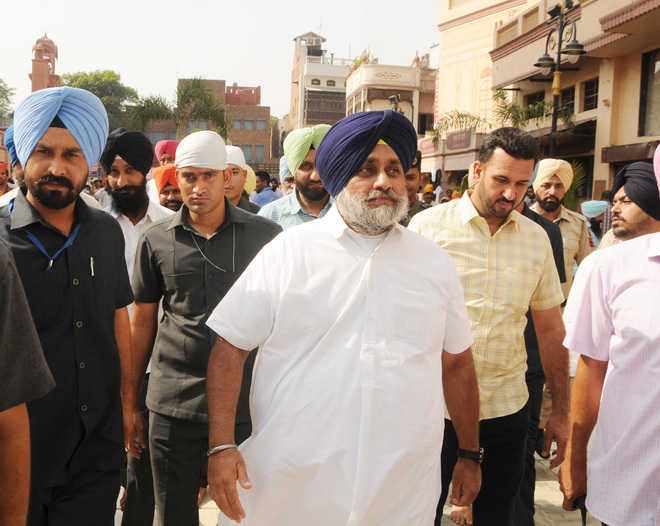 Tribune News Service
Amritsar, April 29
SAD president Sukhbir Singh Badal on Sunday said that Navjot Singh Sidhu had no interest in carrying out his duties as the Local Bodies Minister. Badal was in the city to pay obeisance at the Golden Temple. He took a walk in the Heritage Street.
Launching a scathing attack on Sidhu, he said, "Since the Congress government declared his minister guilty of murdering an elderly man, he (Sidhu) should have resigned on moral grounds without wasting a single minute."
Distressed over the "ill-maintenance" of his dream project, the former Deputy CM pointed out that it was responsibility of the Tourism Department to maintain it. "Sidhu is government's representative as well as the Local Bodies Minister. It is sad to see the way the holy city is being neglected. I ask Sidhu to at least spare time to streamline the cleanliness and conservation of the Heritage Street that has been built by spending crores of rupees. Stray dogs and beggars have been roaming hither and thither. Garbage keeps on piling up unattended, turning into an eyesore for visitors who come from across the globe," he said.
He also pointed out that the interpretation centre built at the basement of the Golden Temple plaza too was crying for sustainability. "I came to know that the workers were not being paid salaries regularly. We had conceptualised to form a corpus fund for its maintenance, but it was discontinued by the present government," he said.
Ironically, on February 26, Sukhbir himself took to cleaning it up with his party supporters during his visit here.
He also flayed the state government for allegedly neglecting the farmers. He said the procurement process at the food grain mandis was not being carried out smoothly. "I have never seen administrative officials in the mandis. Procurement is not being done. Farmers had to safeguard their produce. If it rains, it will break the farmers' backbone and aggravate their crisis," he said.
On upcoming Shahkot by-elections, Sukhbir said that a meeting was slated for Monday to make party strategy in this direction.
He said the Election Commission should depute special observers to conduct fair elections in Shahkot keeping in view the "gross violation" of democratic set up that was witnessed during the Gurdaspur Lok Sabha by-elections.
Top News
Action taken under relevant Section of Unlawful Activities (...
Says wants it to commit constructively to establish facts
Blinken says it is 'important for India to work with the Can...
Harpal Cheema responds to Governor Banwarilal Purohit's lett...
Pawar and Adani first inaugurated a factory at a village in ...