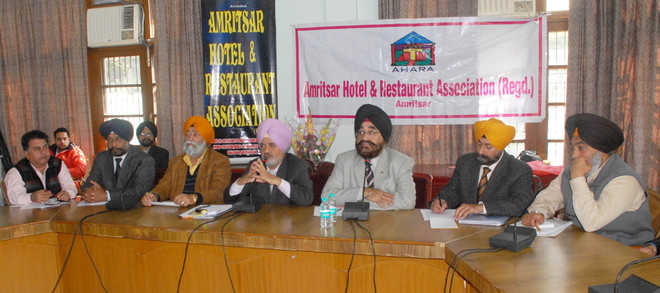 Tribune News Service
Amritsar, February 15
The city-based hospitality industrialists have urged the Punjab Pollution Control Board (PPCB) chairman, Manpreet Singh Chattwal, to withdraw notice of charging water cess from hotels since 1978 for drawing underground water through submersible borewells.
As many as 60 members of the Amritsar Hotel and Restaurant Association (AHARA) led by its president APS Chatha held a meeting with the five-member PPCB team. There are over 250 hospitality units in the holy city.
While addressing hoteliers, Chattwal asked them to deposit the water cess with effect from 1978, when the law was enacted or from the year their hotels were established.
Hoteliers, accompanied by SAD leader Rajinder Singh Marwaha, requested the PPCB delegation to implement the water cess from the current year. They said if the law was implemented retrospectively it would lead to harassment of hoteliers. They added not implementing the law after its enactment in 1978 was government's folly.
They also urged the PPCB officials to withdraw notices served on hotels to install sewerage treatment plants (STPs) in their units. They said there was no point in installing equipment for treatment of kitchen water in hotels as there was no STP in the city. Treating waste at hotels would be of no use when it would be released in the drains, they added. They said the process for installing the two STPs of massive capacity by the government was underway in the city.
While expressing their helplessness, the visiting PPCB delegates said notices were issued under the guidelines of the National Green Tribunal. They asked hoteliers to abide by pollution norms. They said high pollution levels had a bad affect on the Golden Temple. The PPCB chairman, Chattwa,l asked hoteliers to treat kitchen waste before disposing it off.