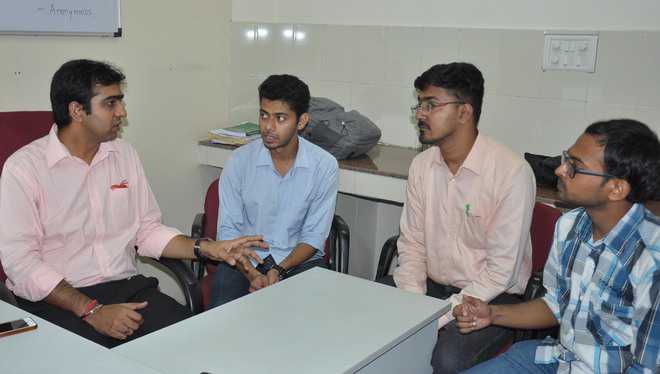 Divya Sharma
Tribune News Service
Amritsar, August 7
Three students of the Indian Institute of Management (IIM)-Amritsar have carried out a study on the functioning of the community kitchen at the Golden Temple.
In their study, the students found that there is an equal need for LPG-run hobs and partial firewood despite the introduction of a biogas plant.
They also stressed on the need for a full-fledged solar plant to meet the electricity expenses, besides introduction of technology.
Recently, the SGPC had announced to set up a biogas plant at the Golden Temple kitchen, which offers langar (community food) to at least 60,000 devotees daily.
IIM-Amritsar students Tanveer M Sheriff, Saikat Dasgupta, and Pramit Neogi, under the supply chain management subject, which is a part of their course, studied the aspects of the community kitchen that could be implemented in the business world, besides understanding the art of management. The study was supervised by Assistant Professor Dr Neeraj Bhanot of the IIM-Amritsar.
The students worked on a three-month-long project. They met various officials of the Golden Temple, paid visits to stores and learned about procurement of raw materials, storage, preparation, and distribution.
"The process of cooking food starts at midnight. The raw material is procured from local traders and wheat is donated by people. The material is re-filled before it is consumed. There is a cycle of continuous consumption and procurement. The entire consumption and process varies from time to time," said Saikat Dasgupta.
"The study reflects the love, selflessness, and dedication of the people, which make it a unique and cherished one," added Tanveer M Sheriff.
"The supply management chain is basically a journey of procuring a thing till it reaches its destination. The students were asked to visit the temple to study the supply chain. They have also given a few suggestions to enhance the current mechanisms in their study," said Bhanot, an expert in quantitative methods and operations management.