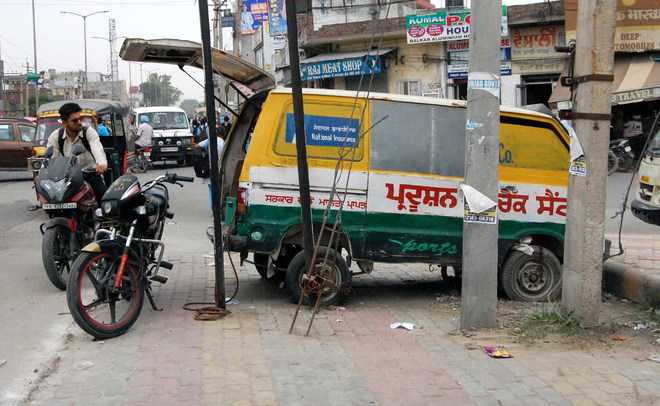 PK Jaiswar
Tribune News Service
Amritsar, July 21
The recent arrest of three youths have brought the focus back to the illegal air pollution check centres thriving in the city. While the District Transport Department seemed to be incapable of keeping a close watch on such centres due to shortage of manpower, the police also drew a blank when it came to checking the legality of these centres.
These centres are running in an illegal manner in worn out vans parked on roadsides. It is mandatory to have a licence from the District Transport Department for running a pollution-check centre. It should have a shop or rented accommodation from where it could operate its office, but such rules are being ignored in a deliberate manner. Now, these centres have started issuing insurance to the people also.
Earlier too, the traffic police, in collaboration with the DTO, had planned a drive to verify the antecedents of the owners of these centres after a couple of persons were arrested in September 2015 from the Amritsar rural belt. However, the plan could not see the light of the day.
A couple of days ago, the special cell of the city police nabbed three persons after their insurance papers were found to be fake during a checking. Those arrested were identified as Rajinder Singh, alias Romi, of Bhall Colony, Chheharta, Vijay Kumar of Ramsar Road and Raj Kumar of Vikas Nagar, Khandwala. The absconders include Manmohan Singh, alias Sunny, of Tarn Taran Road and Simarjit Singh, alias Honey, of Sultanwind. Two of their accomplices were also absconding.
The police seized a fake pollution certificate book and a receipt book of United India Insurance Company. The police also recovered Rs 36,260 from their possession besides three 'scrap' vans. The police authorities said the accused used to earn between Rs 25,000 to Rs 30,000. They did not possess the mandatory permission or licence from the DTO for the same. They had been operating for the past one and a half years.
"Even though these are mobile pollution-testing centres, they remain stationed on the road permanently," said a resident, adding that their genuineness should be verified.
An official of the DTO office said due to shortage of staff, they could not check the legality of the pollution check centres in the city. It required manpower to conduct such drive or operation.
District Transport Officer Lovejit Kalsi said there were around 40 such centres which were given a licence by the department. She said anybody found issuing fake insurance and pollution check certificates and cheating innocent commuters would be dealt strictly.
Police Commissioner Amar Singh Chahal said he would direct the officials concerned to check the antecedents of such centres.
Top News
With the induction of five more ministers, the strength of B...
Supreme Court judge bats for mandatory regulation of social ...
BJP's next round of growth will come from South India, says ...
Two-day special Maharashtra Assembly session begins
Two AK series rifles, seven grenades and pistol recovered fr...