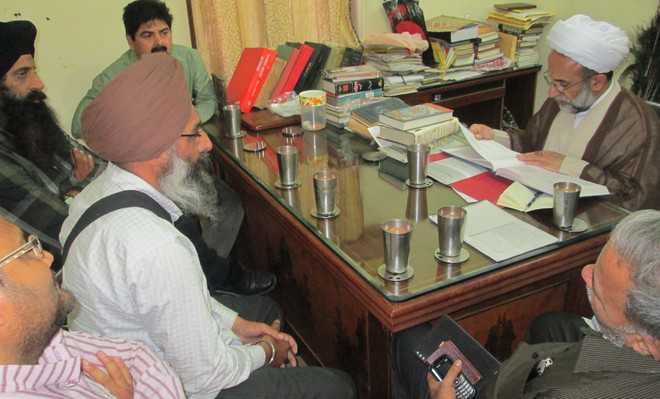 Tribune News Service
Amritsar, March 26
M Mahdavipour, Iran's Grand Ayatullah Sayyed Ali Hosseini Khamenei's representative in India, has assured to take up the demand of setting up of a Sikh-Persian school in Punjab with the Iranian Government.
He today visited the campus of Naad Pragas, a society being run by PhD scholars, where Persian language is being taught for the past decade.
He stressed on the promotion of Persian language to revive the ancient relations between Indian and Persian civilisations particularly in Punjab.
Mahdavipour said that there was a need to promote the Persian language in India in general and Punjab in particular. He added that the Persian scholars engaged in the universities here must be encouraged to explore more about this ancient language.
In the context of Sufism studies, he said that practical Sufism was being taught while theoretical Sufism was missing in Indo-Persian studies.
He was informed by the members of the society that Janamsakhis, Sikh religious literature, liberally quoted references of Sikh-Sufi relations.
Even in ancient India, exchange of thought between Iran and India was found during the Sapt Sindhu civilisation, the members said.
They stated that these steps would consolidate bilateral relations in all aspects like culture, trade and welfare. Naad Pragas' secretary Satnam Singh told Mahdavipour that the Naag Pragas was teaching famous Sufi literature and Indian creations in Persian language apart from imparting its rudimentary knowledge.
These included Guru Gobind Singh's Zafarnama, Kalams of Bhai Nand Lal, Dr Gulwant Singh translated Japuji in Persian and selected Persian literature.
Among others, Dr Haider Raza Javed, Dr Rehan, Prof Jagdish Singh, Puninder Singh and Dr Sukhwinder Singh were present.