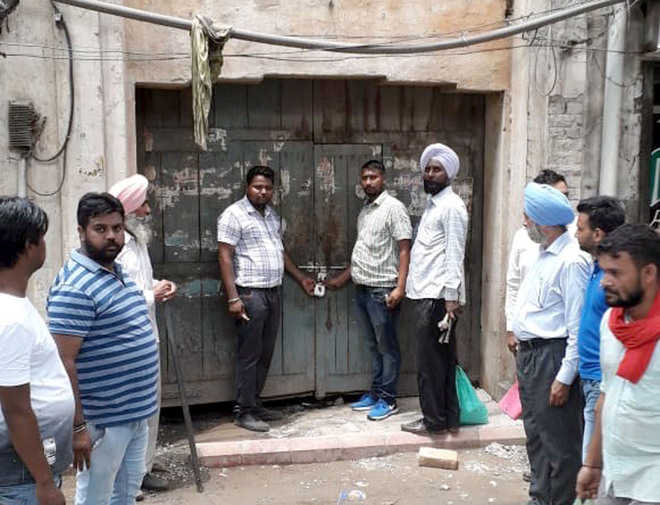 Tribune News Service
Amritsar, July 18
The Municipal Corporation (MC) demolished two structures during a drive to check illegal constructions in the walled city here on Wednesday. Besides, four buildings were sealed and an owner was issued orders to stop construction immediately.
The officials accompanying the MC team stated that as per the orders of the Punjab and Haryana High Court (HC), new construction was not allowed in the walled city but some people had been flouting the orders. The team was led by Assistant Town Planner Parminderjit Singh.
Building Inspector Paramjit Singh said notices had been issued to the errants in the past against whom action was taken on Wednesday. The team demolished the basement of a building in Gheo Mandi, under construction lintel of a building in Lalan Wali Gali, sealed two buildings inside Sheranwala gate, one building in Mai Ratto Wali Gali and one building in Hussainpura Chowk. The team also instructed the owner of a building at Hussainpura Chowk to immediately stop the construction activity.
The team also faced resistance from local residents as while demolishing the basement of a building in Gheo Mandi. The residents complained that as heavy machinery was being used, the act of demolition might cause damage to adjoining buildings.
Paramjit Singh said the concerns of the residents were addressed and the demolition work was done with extreme care to ensure no damage to the structures of nearby buildings.
The HC, in response to a public interest ligitation (PIL) filed over construction of illegal hotels around the Golden Temple, had instructed the MC not to approve site plans of any of the new constructions in the entire walled city.