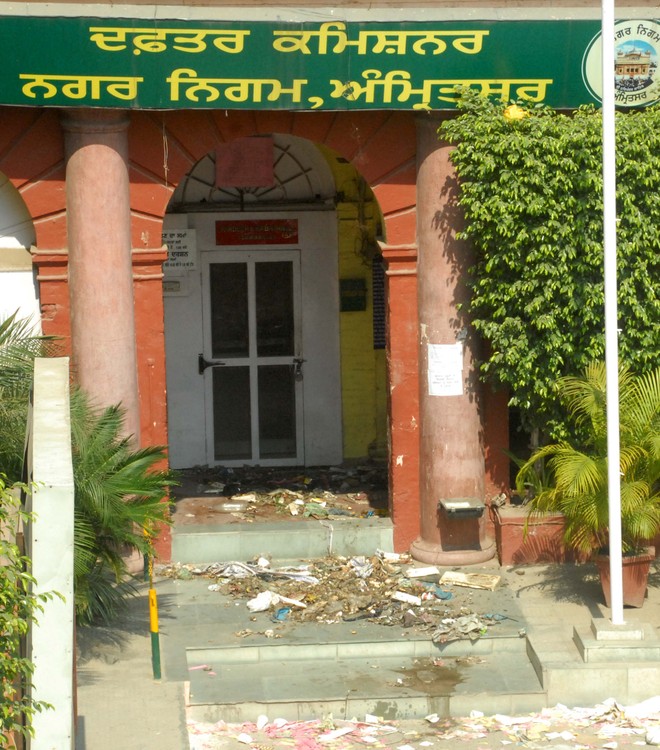 GS Paul
Tribune News Service
Amritsar, October 9
Dejected over not getting wages, some of the agitating MC workers deliberately threw garbage and fish waste outside the offices of the mayor, the commissioner, the medical officer and other departments in the Town Hall complex in retaliation. The Municipal Corporation employees were adamant on their demands as a meeting between them and the MC authorities ended on an inconclusive note last night.
The employees made it clear that they will continue with their agitation till all their dues are cleared. Around 40 high rank officials including the XENs, SDOs, MTP too joined the protest today. They also revealed that some of the cheques issued by the MC to some of the safai karamcharis have bounced.
The Town Hall complex which is the MC's headquarters with its key departments was emanating such a stink that it was not possible to pass by it without putting handkerchief on nose.
Sanjha Sangarsh Morcha, under whose banner the workers have been conducting protest today continued with their agitation. They conducted march in the Town Hall complex and raised slogans against the government and the MC authorities.
Meanwhile, former cabinet minister Luxmi Kanta Chawla, told that it were the ill-conceived policies of the government which had led to such a dismal affairs that the MC was unable to pay wages to its employees. "The common residents have been compelled to live under unhygienic conditions due to strike by the employees. They had declared that they would be back to work only after their dues are cleared, yet the residents have been facing health threat and it was government's duty to take care of it", she said.
Sanjhi Sangharsh Committee chairperson Surinder Tona told that yesterday's meeting with Mayor Bakshi Ram Arora and MC Commissioner Pardeep Sabharwal was boycotted when they could not commit to get the disbursal of salaries by seventh of every month.
"The mayor and the commissioner told us that they could ensure salaries for safai karamchris between 7th and 10 th of every month; clerks be considered for between 10-12 th of every month; higher officials like the Xen, SDOs to get salaries between 22nd and 25 th of every month. This was not acceptable to us and we quit the meeting midway. We demanded that they should assure us salaries distribution by seventh of every month to each and every employee of the MC, and we would continue our fight for it", he said.
Meanwhile, Congress leader Mandeep Singh Manna and his supporters too showed solidarity with the MC employees. He told that if the MC was not capable to pay the wages to its employees then the government should dissolve it and the employees should be absorbed in other government departments.