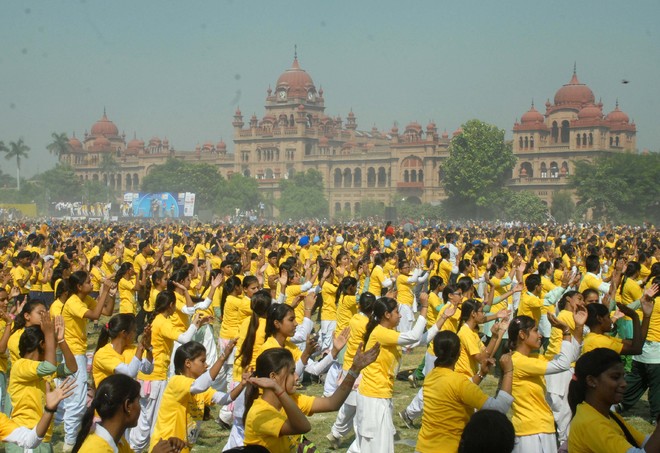 Neha Saini
Tribune News Service
Amritsar, October 3
As many as 9,000 students created a new record with a five minute synchronised performance at Khalsa College to stake claim for a mention in the Guinness Book of World Records. Saturday morning began with a high energy performance by these children, between the age group of five to 18 years. They not only danced their way into record books, but also gave a message against drug abuse. The earlier record was held by 4,428 students in Mumbai, who achieved the feat in 2012 with their dancing act.
The students dressed up in bright with yellow tees called for a unified war against the menace of drugs and its eradication from the state.
The entire event was monitored by 10 CCTV cameras and judged by 200 judges. It was a joint initiative of the district administration and Sun Foundation. The students performed under title "Shake your legs, keep away from drugs" to disseminate awareness against drugs. Padma Shri awardee Vikramjit S Sahney, chairman, Sun Foundation, and former cricketer Bishen Singh Bedi were also present on the occasion.
The entry of students was ensured through proper bar-coding system. The students also made a human chain and took an oath against drug addiction and fighting the menace with their collective will.
Choreographers Pankaj Vij and Preeti, who spent eight months preparing the students for the event, said they were happy that their dancers pulled it off without any glitch. "We planned a series of rehearsals before the final act, but the students only held one rehearsal before giving an amazing final performance. It's a commendable effort, considering that youngsters have joined hands to fight a social menace through unique endeavor," said Pankaj. They now plan to initiate proceedings to get this feat registered with the Guinness Book representatives.
Deputy Commissioner Ravi Bhagat, the man behind the initiative, was quite upbeat about its success. He said, "Youth is the future of our country. If they decide to take a positive outlook towards life, then there is no barrier for our country to become a leading nation in every field." He also emphasised that the fight against drugs and substance was a joint fight. "Administration, law enforcement authorities, all NGOs, volunteer organisations and vigilant citizens of the country have to wage a collective war against this menace to save our future generations," added the DC.
Sahney announced that Sun Foundation would be partnering with the state shortly to run the Skill and Occupational Therapy Centre of Swami Vivekananda De-addiction and Rehabilitation Centre in Amritsar. He said, "The foundation will also assist in activities including motivational therapy, yoga, group therapy, dance therapy, meditation and also provide amenities to the centre, including eight-seater vehicle for transport, equipment for printing press, computers, musical instruments, and professional training set ups."
Several eminent personalities, who attended the event to support children, include IRS, Dr Tarundeep Kaur, secretary, Khalsa College, Rajinder Mohan Singh Chhinna, Assistant Commissioner Amandeep Kaur. Sub divisional magistrates Vimal Setia, Rohit Gupta, Rajesh Sharma, Surinder Singh, chairman, improvement trust, Sandeep Rishi and district transport officer Lovejeet Kalsi were also present on the occasion.