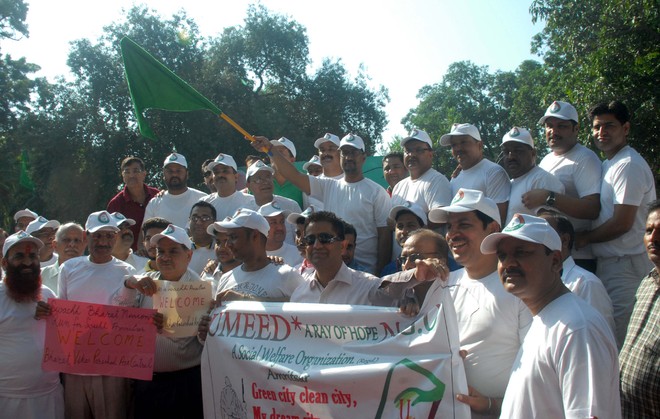 Tribune News Service
Amritsar, October 5
Punjab Local Bodies minister Anil Joshi urged the people of the border state to take a pledge for maintaining cleanliness in a programme held at Company Bagh here today. He administered an oath to students and the people to neither litter themselves nor allow anyone to throw garbage in any part of the city.
The minister was presiding over "Run for Swachch Amritsar" programme organised by the local Municipal Corporation (MC) authorities. While addressing the gathering he said, "The residents should take a vow to neither litter nor let anyone throw garbage at any public or private place." He also directed the police and the civic authorities to take punitive action against those, who indulged in throwing garbage here and there. He exhorted the people to make the dream of Swachch Bharat Mission a reality.
He added that this would not be possible without the active participation of students and the residents. He said collective and concerted efforts of every section of society were needed for turning this dream into a reality.
Earlier, Joshi flagged off "Run for Swachch Amritsar" campaign. More than 1,000 participants attired in white tees and caps, including students, participated in the event. Joshi said Swachch Bharat should become a peoples' movement. The participants took an oath to spread the message of cleanliness in the city by making it a collective movement.
Joshi also called upon social, religious organisations and educational institutions to play a pivotal role in the success of the mission, besides asking students to become catalyst in this drive. He said without active participation of all sections of society, especially youngsters and students, the campaign would not succeed. He also directed the MC Commissioner, Pardeep Sabharwal, to initiate action against those, who had encroached on government land along roadsides.
On the occasion, Joshi released a CD of inspirational songs and sticker to make the people aware about cleanliness. He also pasted a sticker on a LPG cylinder so that the message of Swachch Bharat could reach each and every household in the city. He also launched the website of smart city project at Guru Nanak Dev Stadium.
Mayor Bakshi Ram Arora assured the minister that the Municipal Corporation would leave no stone unturned to make this initiative a success. Sabharwal said the people should use various mediums, including social media to spread the word of maintaining cleanliness.
After the programme ended, garbage could be seen littered on the ground. Empty boxes of refreshment offered to students were found lying in each and every part of Guru Nanak Stadium.