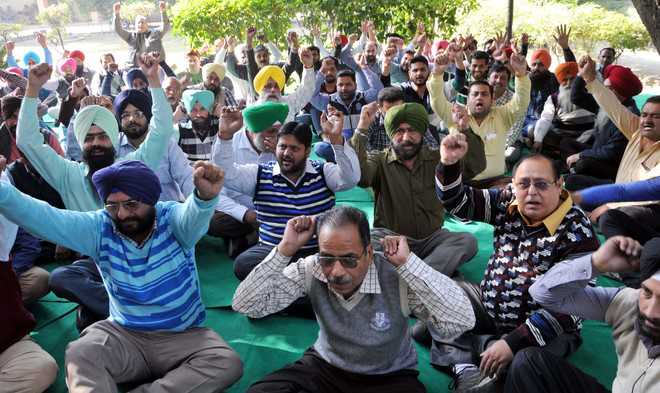 Tribune News Service
Amritsar, November 18
Ministerial staff of all departments proceeded on a mass casual leave to protest against the state government. Employees from all departments held a massive protest rally at the office of the Civil Surgeon here today.
Ministerial workers of Health, Education, Irrigation, Industrial Training, Treasury Departments and others attended the rally.
The protesters also received support of pensioners and other associations as their leaders, too, addressed the gathering. Meanwhile, visitors at government offices were a harried lot as their applications were not entertained.
Association general secretary Jagdish Thakur said employees were protesting for a just cause and the strike would continue till it reached its logical end.
Prominent leaders of the association who addressed the gathering were Bhupinder Singh Bakhna, Dalbir Singh Bajwa, Tejinder Singh Dhillon, Rupinder Sharma and Gurdial Singh Ajnala.
Pharmacists wear black badges at work
Members of the Punjab State Pharmacists Association staged a protest by wearing black badges during work at all government health institutions here today.
Association convener Shamsher Singh Kohri said, "All pharmacists will wear black badges during work till November 25, the day on which a massive rally will be held at the district level." He said main demand of the association was increase in retirement age of pharmacists by two years and more number of posts in health institutions.
Kohri said the association would intensify its protest after November 25 if the government failed to take any action. Association leader Ashok Kumar said, "Most demands of pharmacists had been accepted by government representatives on various occasions, but these were not implemented."