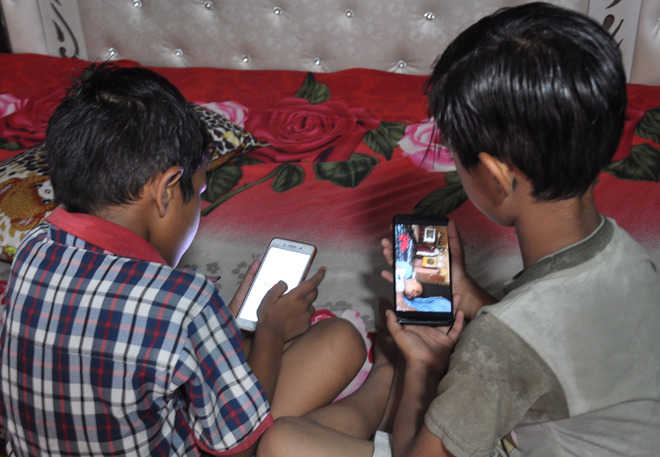 Dhananjai Madaan
Amritsar, July 5
Enough has been said and written about the harmful effects of mobile phone dependency among kids and internet addiction, but the antithesis prevails when it comes to limiting that exposure.
Parents, child experts and medical professionals have been pointing towards the problem for long and with Punjab's first internet de-addiction centre in Amritsar getting children for treatment and counseling, the problem seems to be grave.
Dr JPS Bhatia, MD, Psychiatry, and de-addiction expert, who runs an internet de-addiction centre, shares, "We opened the first internet de-addiction centre in north India to deal with rising cases of internet addiction among kids, teens and youngsters. Most of their behavioural problems are related to over exposure to internet."
He said the exposure to internet starts at a very young age through mobile. "Parents feed their kids while they are watching rhymes and other videos on phone. This starts at an age as early as three or four years. Continued exposure and understanding of the kid converts this habit into an addiction to mobile phones," he explains.
He lists out irritation, depression, loneliness, isolation to mobile addiction among kids. Lack of communication with parents too aggravates the problem. "We get kids who are malnourished because they do not eat food without phone. Parents need to show understanding as well as give time and attention to their kids, exchange cell phones with some other positive habit and don't criticise them because it may result in detachment," he opines.
Dr Bableen Kaur, counselling psychologist at Bhatia Hospital, says, "As councillors, we see behavioural changes and daily patterns that how much children are indulged in cell phones and how it's affecting their daily routine and relationship with their parents. Our mind channelises according to what we see on internet so if kids are watching any bad thing on internet, it will directly affect their mind. Because of this addiction, children also stop taking care of their personal hygiene and become stubborn." She said that parents are also to be blamed for the growing problem. "First you need to check your own screen time and keep a tab on your child's internet activity. We always tell parents that they should never use cell phones in front of their children."
Varun Khanna, a parent, says, "It depends upon parents that how much they give time to their kids. The generation is changing and there is a need of internet nowadays, but if parents are involved with their kids both physically and mentally then there are very less chances of kids getting attracted towards internet." He suggested that going for a walk with kids and developing interest of outdoor and indoor games in them is important.
Another parent, Sandeep Kurl, says, "Parents should converse with their kids and teach them and workshops should be held by schools to tell the positive and negative impact of internet on children."