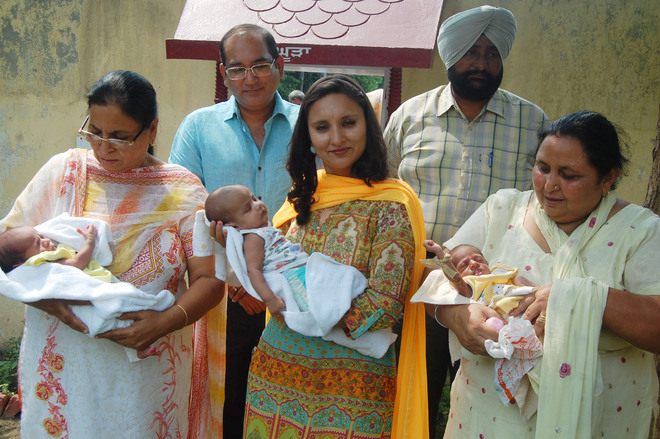 Tribune News service
Amritsar, July 21
Alarmed over the rise in the incidents of newborns abandoned on roadsides dying for want of medical attention, district authorities in Amritsar placed a cradle at the entrance of the District Red Cross building on January1, 2008, so that these infants could at least be saved.
The unique Pangoora (Cradle) Scheme has been rendering a life-saving service. So far, it has been a life- saver of 102 infant girls, including 14 boys. The latest addition to the Pangoora family, three infants, were brought in this month. Amongst the two girls and a boy, the boy was under wieght and was treated before being taken into the care of Pangoora.
This scheme is turning out to be a boon for the unwanted girl child. It has become a home for unwanted children, including girls of extremely poor parents, incapable of supporting their newborn or those infants, who are the result of illicit relations.
Generally such children are either murdered or thrown out to die. Realising the gravity of the situation, the then Deputy Commissioner, KS Pannu, through his personal initiative improvised some space in the boundary of District Red Cross Society's building and fixed a cradle in it. He gave a clarion call to the people that children may not be thrown out. Rather the unwanted infants may be placed in the cradle and the administration will look after their well being. He worked out all modalities as to how to look after a child who arrived in the cradle and fixed responsibilities for it.
The initiative pricked the conscience of a few and they restrained themselves from abandoning infants. Others, who due to various reasons could not look after their infants, started placing them in the cradle.
Every Deputy Commissioner, who followed after that, appreciated the initiative and shouldered the responsibilities of the cradle with equal sincerity. It is now being looked after by Ravi Bhagat, IAS, Deputy Commissioner-cum-President, the Indian Red Cross Society, along with Dr Tarundeep Kaur, IAS, Chairperson, Hospital Welfare Section of Red Cross, Amritsar.
Deputy Commissioner Ravi Bhagat said he will continue with the efforts to provide shelter to these children. "I wish to see adoption centres to come up in Amritsar and seminars for creating awareness among parents about gender equality". He has also planned a study on why people abandon their sons as well.
All children sent from Pangoora to five adoption centres are given to good families to raise under LAPA (Legal Adoption and Placement Agency). Dr Tarundeep Kaur, IRS, Chairperson of the society, made sincere efforts to make the people more aware regarding unwanted children. "Most of these babies are born either out of wedlock or into poor families. Driven by social concerns, the parents choke their emotions and leave them to fate. Pangoora holds them to nurse," said the Chairperson.