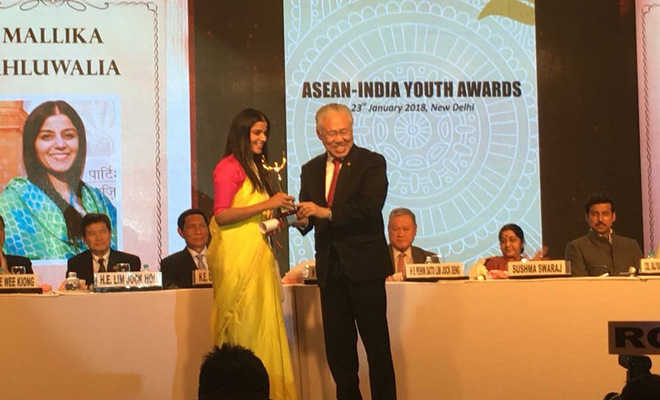 Tribune News Service
Amritsar, January 30
The Partition Museum CEO and Curator, Mallika Ahluwalia, was given away The Young Achiever Award for the tourism sector at the 1st ASEAN-India Youth Award function held in New Delhi recently.
Rajwinder Kaur, manager of the museum, stated that the award acknowledges Mallika Ahluwalia's leadership abilities, sincerity and contribution to society.
Chief Minister Capt Amarinder Singh extended his heartiest congratulations to Mallika for winning the award, she said. The trustees of The Arts and Cultural Heritage Trust also congratulated her for receiving the award.
The museum aims to be a memorial to all those millions impacted in the largest migration in human history, as well as, a comprehensive archive on the partition. For thes past two years, Mallika, in her capacity as a curator, had been working with a team of volunteers and supporters in putting together historical material from families affected by partition and officials and family archives for the 17,000 square feet museum located in the historic Town Hall in the city.
She holds degrees from Harvard Business School, Harvard Kennedy School and Princeton University. She has worked at the Bill and Melinda Gates Foundation and the United Nations.
"I am extremely touched to receive this award and would like to congratulate everybody who extended their support to the museum, especially the Punjab government, our trustees, advisors, volunteers, donors, and supporters. It would not have been possible without their cooperation. I will remain grateful to the partition survivors and their families. Each of them welcomed us into their lives and shared their stories with us and donated their closely held memories to the museum," she stated.
Top News
Says unprecedented assault on corruption has angered those w...
As part of the special drive, the regulators have identified...
Behind him, Papalpreet Singh, who is said to be his mentor, ...
Punjab CM accuses Jathedar of favouring the Badals; Giani Ha...
7 others, including Ahmed's brother Khalid Azim alias Ashraf...