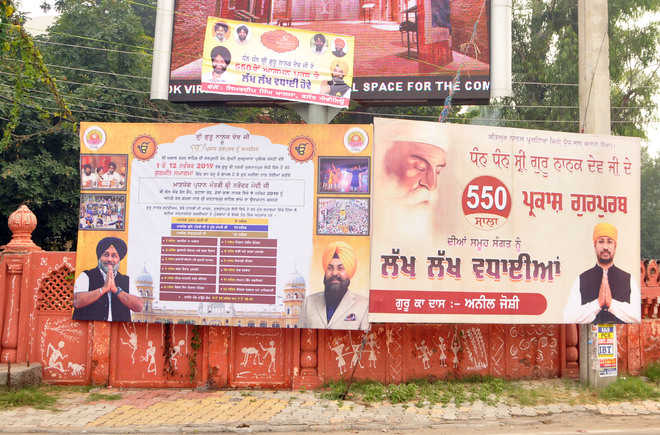 Charanjit Singh Teja
Tribune News Service
Amritsar, November 13
Though the residents have celebrated the 550th birth celebrations with zeal, city walls have been left defaced by greeting banners by politicians in every nook and corner.
Following the staff crunch, the defacements have become a challenge for the advertisement wing of the Municipal Corporation. The department has only one truck and five employees for the city having a population of 15 lakh. As 550th birth anniversary of Guru Nanak Dev was a major event, political parties, local leaders, religious leaders, heads of sects and local organisations displayed flex boards and posters on city walls and chowks. Even senior ministers and leaders in the state government set up advertisements by violating the rules. A higher number of flexes and posters were witnessed on streets near Golden Temple.
However, officials of the Municipal Corporation claimed that they had started removing hoarding from major roads and chowks. "We have removed almost 30 per cent hoardings today. Our team has been working hard. We will probably remove all hoardings by Friday," said incharge of the advertisement wing.
It is worth mentioning here that boards welcoming Nagar Kirtans are still displayed on roads. Local politicians often threaten MC employees to not remove their display boards even after the event gets over. Sometimes, while hoardings and boards are being removed, supporters of politicians enter in into brawl with MC employees.