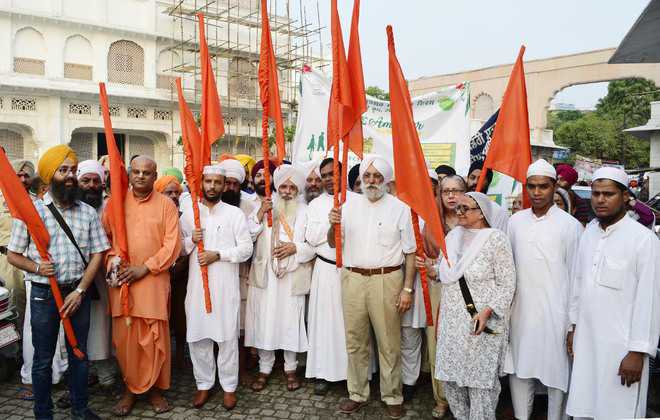 Tribune news service
Amritsar, June 27
The city today came together on its 440th anniversary with leaders and representatives of all faiths joining hands and pledging to make the city of Guru Ram Dass in consonance with his vision.
The 5th annual Walk for Amritsar was organised on the occasion to celebrate the foundation day of the city and introspecting the 5-year-old programme (2013-2017) of EcoAmritsar.
A large number of people took out a march holding placards with a message for ecological change in the holy city on the call by EcoAmritsar, which is the local branch of NGO EcoSikh.
The programme is being organised for a clean and green environment. It also focused on saving water and keeping the surroundings plastic-free. The initiative was adopted by various NGOs and supported by the district administration, SGPC and educational institutions.
Students and NCC cadets of various schools along with representatives from Bhagat Puran Singh Pingalwara participated in the two-hour walk.
Members of Chief Khalsa Diwan Orphanage played gatka on the occasion. A street play on irresponsible littering and defacement was also performed by students of IVE Children at Ram Bagh Gardens in the presence of a large number of residents.
The event was chaired by Deputy Commissioner KS Sangha. The DC was out of station but keeping his promise with the residents, he returned to the city early in the morning.
Leaders and representatives of all faiths proposed ideas for improving basic infrastructure of the city.
The proposal made by Bhai Guriqbal Singh to adopt two mohallahs for cleaning and maintaining greenery by each social organisation was endorsed by the Shri Indranuj of Iskon.
Similarly, Diocese of Amritsar Father Vijay; Abdul Noor, president, Majlis Ahrar, Punjab; and Colonel Ashwini, Commandant, NCC, were unanimously supported the cause.
As many as 250 saplings were handed over to representatives of the Palmgrove and Paradise Green Association under a plantation drive.
In his address, DC Sangha deeply appreciated the philanthropic attitude and social pro-activity of the city. He stressed upon the need to recognise the contribution of the ragpickers and sanitation workers, who work dedicatedly to keep the city clean.
The DC extolled the need for residents to take the responsibility and assist the administration and the civic body to make the essential change in the city. The DC further pledged his complete support to the cause.
Gunbir Singh, chairman, EcoAmritsar, said "Projects such as the organic food movement, green nagar kirtan, plastic-free Christmas, zero disposal parks and garbage-free households are some of the positives that give us satisfaction."
Top News
Announces capital investment at Rs 10 lakh crore, PM Awas Yo...
Fully imported cars, including electric vehicles, and those ...
21 skiers were rescued from the slopes that has been declare...
In her Budget Speech, the minister also announces a new smal...
Said it will fulfil dreams of the aspirational society, farm...