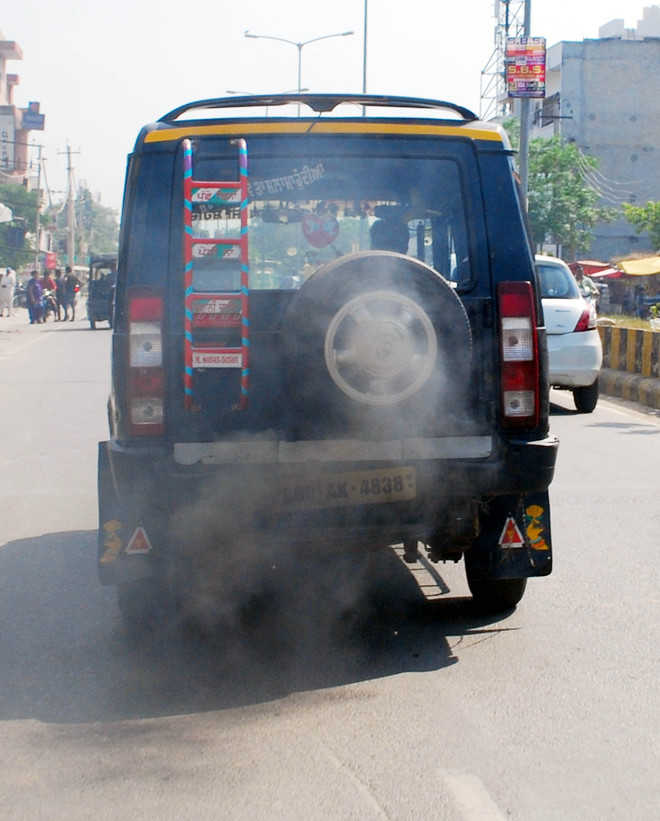 Neeraj Bagga
Tribune News Service
Amritsar, May 8
The constant rise in air pollution suggests the government's failure in curtailing emissions. A rough estimate suggests that about nine lakh vehicles are registered with the RTO. The holy city is among the top tourist destinations in the country and large numbers of vehicles entering the city from outside is a serious concern. Consequently, air pollution continues to remain the biggest cause of respiratory diseases among the city residents.
The residents are inhaling poor quality air, which is likely to worsen in the coming years. Keeping in view the high density of vehicles per kilometre and expansion of industries, the multi-agency coordination needed to deal with the threat is missing and remains only on paper.
As per the rules, vehicles have to comply with the emission norms set by the government. They are being checked regularly by stations authorised by the Pollution Control Board (PCB), but many vehicles don't follow the norms.
Environmentalist Gurbhej Singh said airborne suspended particulate matter is an important indicator of the air quality. Particulate matter includes organic and inorganic matter, nitrogen compounds, sulphur compounds, polycyclic aromatic, hydrocarbons and several heavy metals. Vehicles, industries and heavy generators are major causes of increase in concentration of carbon monoxide and sulphur dioxide in the environment.
He claimed that there has been rapid increase in the number of the people with symptoms of respiratory disease, burning eye and skin allergy as most of them are exposed to smoke and dust for almost 12 to 16 hours each day. Toxic fumes have a long-term effect on people's health. Meanwhile, various reports also suggest towards worsening pollution level in the environment.
The World Health Organisation (WHO) report, issued in 2014, had ranked Amritsar at number 14th in the list of most polluted cities in the world. In its 2016 issue, the city along with Ludhiana, Khanna and Mandi Gobindgarh had figured among the top 25 most polluted cities. A Punjab Pollution Control Board (PPCB) study conducted in 2011 in and around the Bhandari railway overbridge found the area as the most polluted in the city. The PPCB had carried out the study on vehicular pollution in busy hours on key points. Air samples were collected from Chattiwind Chowk, Sant Singh Sukha Singh Chowk, Kitchlew Chowk and Bhandari Bridge.
However, at Bhandari Bridge, the particulate matter was as high as 599 per cubic meter (µgm/m3) during peak hours while it was 232 µgm/m3 during lean traffic hours. At Sant Singh Sukha Singh Chowk, particulate matter level was 586 µgm/m3 during peak traffic hours and 212 µgm/m3 during lean hours. At Chattiwind Chowk, it was 486 µgm/m3 during peak traffic hours and 175 µgm/m3 in lean traffic hours. Similarly, at Kitchlew Chowk, it was 391 µgm/m3 during day time and 150 µgm/m3 in night.
Balram Kumar Sharma, a city resident, said in absence of any suitable answer to rising vehicles the pollutant level must have rised. He said the mass transport services in form of City Bus Service and Bus Rapid Transit System have not been implemented to curtail automobile emissions.
Environmental Engineer Harpal Singh said vehicular pollution is the major source of pollution after industry. The government is in the process of removing obsolete autos from the roads and substitute them with environment friendly ones, he added.
Top News
Addressing a press conference ahead of Navy Day, he says the...
Said it was a break from the colonial and pre-colonial legac...
The move will allow more than 200,000 workers who have famil...
BSF jawans hear buzzing sound of a Pakistani drone at midnig...
Case registered on CPI(M) West Bengal secretary Md Salim's c...