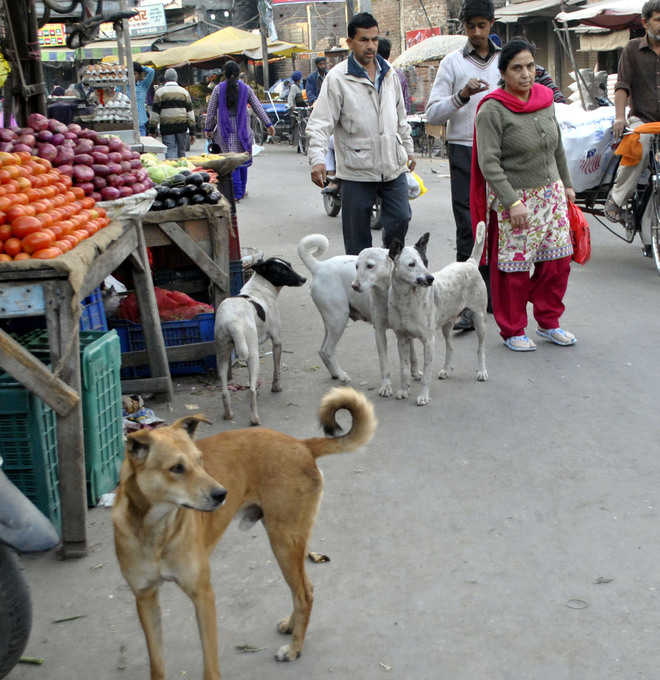 PK Jaiswar
Tribune News Service
Amritsar, February 17
The Tarn Taran incident should be an eye opener for the Amritsar civic authorities and the district administration to tackle the stray dog menace, which continues to haunt the holy city. The administration as well as the Municipal Corporation authorities have made no concrete efforts to solve the problem that has been a major concern among residents.
Perturbed over the menace a few years ago, some unknown resident had killed a number of stray dogs by offering them eatables laced with poison in the walled city area.
While the civic authorities have expressed their helplessness over the issue as culling of stray dogs is banned, further they have no funds or resources to sterilize stray dogs.
The much-talked about Advanced Minimally Invasive Vas Occlusion Technique (MIVOT) programme introduced for the first time in the city eight years ago was discontinued after it was disapproved by the Animal Welfare Board of India (AWBI). Similarly, the ambitious Central Government-funded Rs 1.26-crore Animal Birth Control (ABC) project of the AWBI of sterilising stray dogs could not be implemented properly. The Amritsar MC had also devised a programme known as Catch Neutarlise Vaccinate and Release (CNVR) project in collaboration with the Animal Husbandry Department to check the growth of canine population.
According to rough estimates, the stray dog population in the city is pegged above 40,000 while the MC's figures say it is around 25,000.
In June last year, taking note of the stray dog menace, the MC gave a signal for sterilisation of stray dogs and registration of pet dogs at its general house meeting. A resolution was passed in which it was decided that it would charge Rs 500 each for registration of pet dogs and the amount would be later spent on sterilisation of stray dogs in order to prevent an increase in their population, but this also failed to take off.
The situation the rural belt is facing is also very grim. The stray-dog menace is increasing with population. The stray dogs living near 'haddorori' where animal carcasses are dumped and skinned are most fearsome. They have made life hell for villagers who claim that these canines hunt in packs and people fear walking alone, especially in the evening.
Rattan Singh Randhawa, a prominent farmer leader, pointed out that the situation was very alarming in the rural belt. Unfortunately, there are no plans from the government's side to deal with the menace.
Raminderbir Singh, a resident of Guru Arjan Dev Nagar area, said elderly people and children are particularly under threat of these stray dogs as they could not run or save themselves when a pack of dogs surrounds and attack them.
When we are talking about turning the holy city into a smart city, such incidents remind of a lackadaisical approach of the authorities concerned. These issues are easily swept under the carpet and forgotten later on, points out another resident, Ajay Bhatti.
Previous Instances
Maninder Singh (4) was mauled to death by stray dogs in Kairowal village in Tarn Taran on Thursday evening. He had gone to pay obeisance at a Dargah and was returning home.
A minor boy Angadbir Singh (3) of Hardkhurd village was mauled to death by stray dogs in Ajnala in February last year. He was playing outside his house. The rural areas are governed by various nagar councils or municipal committees and, therefore, do not come under the purview of local MC.
In another incident, a woman suffered grievous injuries on her face when she was attacked by a stray dog in the fields in the same month. The incident occurred in Bhaini village on the outskirts of the city.
In February 2012, Subeg Singh (45), a resident of Pandori village, was killed in a similar fashion. Stray dogs not only killed him but also feasted on his body till the time people reached the spot. He was returning home late in the evening from work.
Officialspeak
The district administration has asked all the panchayats to form plans and raise funds through various funds sanctioned to the village panchayats. — Basant Garg, Deputy Commissioner
It requires a lot of financial aid to sterilise such a huge number of stray dogs. The MC authorities cannot do it own their own. The government should intervene in this regard. — Bakshi Ram Arora, city Mayor
Top News
The former military ruler had left Pakistan in March 2016 fo...
After his failed misadventure in Kargil, Musharraf deposed t...
Military shoots down the surveillance balloon in Atlantic Oc...
The incident took place on Friday when Kambli reached his fl...
Dearness allowance for employees and pensioners are worked o...