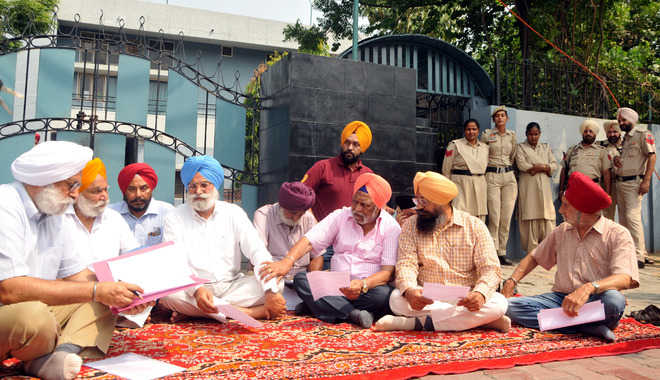 Divya Sharma
Tribune News Service
Amritsar, September 13
The tussle between two warring factions for management rights of Sant Singh Sukha Singh (SSSS) educational institutions took another turn as the members of the Khalsa College Governing Council and Sri Singh Sabha formed a committee to "safeguard" the legacy of Bhai Sant Singh on Friday.
The move is in opposition to already existing management committee of the SSSS education institutions. The newly-constituted committee alleges that the properties are being allegedly sold illegally and fraudulently by the current school management.
Sant Singh, a philanthropist, had given his assets to be utilised, particularly for education.
Officiating honorary secretary Gunbir Singh of Sant Singh Sukha Singh Khalsa School Committee, said, "Sant Singh noted that the Tenth Guru was not in physical form, hence, he registered a tamliknama (will) while highlighting the need for premier institutes, such as Khalsa College, with Sri Singh Sabha to play role of custodians to his donated legacy. We have received several reports regarding property sale. We have formed a 12-member committee having Khalsa College Governing Council and Sri Singh Sabha. The members couldn't enter the school as it was closed.
Rajinder Mohan Singh Chhina, honorary secretary, Khalsa College Governing Council, was also present
Gurpreet Singh, media coordinator of the exiting management committee of Sant Singh Sukha Singh institutions, released a statement stating that according tamliknama of Sant Singh, the KCGC had ended its rights over the institutions on July 21, 1916 in presence of the then district judge. "As per the amendment on July 17, 1917 and the remaining rights of the council were also dissolved," he stated.
As per the press statement, the present management committee has sent legal notices to the heads of council and other concerned parties.
"The school was not closed. We had a function. So the staff members and others had gone to that school. There is no truth in rumours about sale of properties," he added.