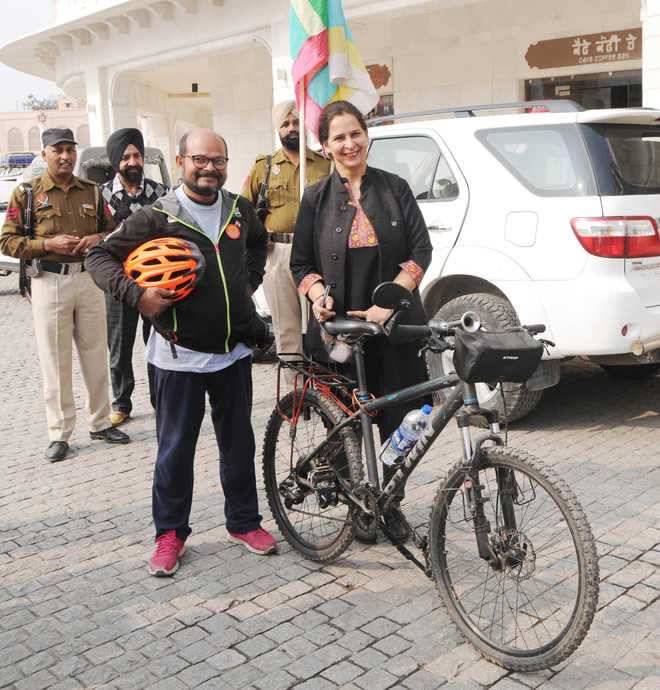 Charanjit Singh Teja
Tribune News Service
Amritsar, November 17
Rakesh Kumar Singh, a 42-year-old writer from Bihar, has been pedaling to make the masses aware of gender freedom.
He has visited 14 states of the country and will end the journey in December 2018 by covering rest of the states and Union Territories.
Rakesh interacts with hundreds of people and visits colleges and schools to convey his message to students.
He arrived in the city a day before yesterday and held interactive sessions at local colleges.
He discusses the impacts of gender disparity on life and society with people. Born in Tariyani, Chhapra (Bihar), he was associated with a media research institute till 2014.
He also penned a book "Bam Sankar Tan Ganes", a documentation of the contemporary history of rural Bihar. He started the journey in 2014 after meeting some acid attack victims in Delhi.
"To sensitise people to the worst kind of gender-based violence such as rape and acid attacks, I started this journey from Gudvancherry (Tamil Nadu), where a 40-year-old woman was forced to drink acid by her husband," said Rakesh.
He recently visited Himachal Pradesh. After staying in Punjab for a few days, he will leave for Rajasthan.
"I am not fond of cycle expeditions but use cycle as a cost effective mode of transportation. I pedal 50 to 60 km in a day but stay long in cities. I generally cover at least 30 per cent area of a state. I interact with hundreds people and organise the interactive sessions on gender freedom," he added.
"Gender freedom is all about peaceful coexistence and acceptance of all genders male, female, LGBT or any other way an individual wishes to define his/her gender. Gender-based violence is reported from every nook and corner of the country every day, which often leads me to think why is it happening? Is it the lack of policing, is it due to our cultural bias towards patriarchy, is due to lack of quality upbringing, or is it due to intolerance towards the other gender?" questions Rakesh.
"The government or the law enforcement agencies can do whatever little they are interested in but what can be done by an individual who shares deep concern for gender-based violence?" he asked.
He has installed a box on his cycle to collect funds from the public to support his ride and mission.
Top News
Shiv Sena advocate Singhvi told the apex court that people w...
After delaying their departure by around two hours, the diss...
The police have detained three more people in connection wit...
He is now being brought from Delhi on a transit remand befor...
Officials say soon after the direction received from the MHA...