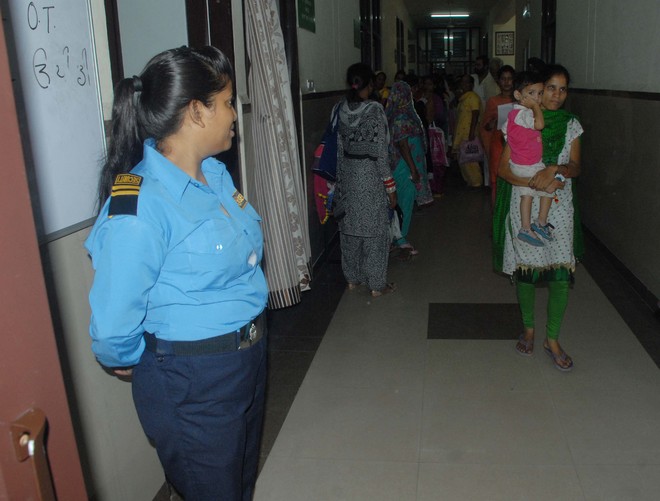 Tribune News Service
Amritsar, October 6
Jallianwalla Bagh Memorial Civil Hospital has hired women security staff to deal with any untoward situation involving women on the hospital premises. At times, relatives of patients resort to protest on the hospital premises and security personnel have to intervene to control the situation. The new female security guards have been provided by a private company hired by the hospital to look into the security of the hospital. As the hospital had a shortage of security guards earlier, employees had complained about the same on various occasions.
Senior medical officer Hardeep Singh Ghai said: "The enhanced security would help employees in performing their duties without fear. Even these female security guards would be used to guard labour and gynaecology wards where usually male staff cannot be deployed."
He said the hospital staff had been facing various problems due to the non-availability of security guards. The hospital had engaged 11 new security guards, he said.
Dr Ghai said the hospital had earlier got CCTV cameras installed inside the building to keep an eye on suspicious persons..
Top News
Aviation Ministry had imposed lower and upper limits on dome...
Tejashwi Yadav is deputy CM
New CJI will have a brief tenure of less than three months
A bench of Justices Surya Kant and J B Pardiwala also extend...
BJP fields Sushil Modi, a long-time confidante of Nitish and...