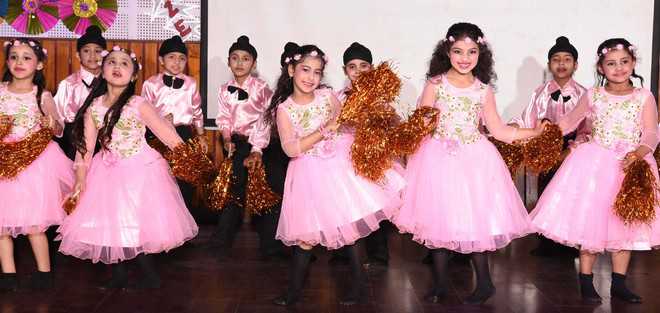 Amritsar: Cooking is the new fad among students. Taking note of this students of DAV Public School organised "Young Chef India Schools – 2017" on institution premises to encourage schoolchildren to pursue their passion. The event was conducted by International Institute of Hotel Management (IIHM), Delhi. As many as 10 students of Class XI participated in the preliminary round and cooked to their hearts content. In the open category they were to present a regional cuisine and a bakery item. Chef Ajay, a faculty of the IIHM, Delhi, was the judge. He was fascinated by dedication and professionalism of students. He appreciated their confidence and praised them for keeping their cool even under pressure of the competition. He shared some valuable tips with the participants and asked them to be creative. He said all young chefs gave a tough fight with their smartly plated dishes, which made it difficult for him to choose the winner. The winners of first round will compete in the finals at the IIHM, Delhi. School Principal, Dr Neera Sharma, expressed her gratitude to Chef Ajay for guiding students. She said, "I will like them to polish their skill with the guidance of experts like Chef Ajay and fulfil their dreams with hard work in the field of their choice."
Prize distribution at Sri Guru Harkrishan School
To felicitate achievers of the UKG and first standard, students of Sri Guru Harkrishan Senior Secondary Public School, GT Road, organised annual prize distribution function at the school auditorium. Jagjit Singh Suchu, chief engineer, PSPCL (border range), was the chief guest on the occasion. He was welcomed by Navpreet Singh Sahni, member in charge, Chief Khalsa Diwan Charitable Society, Harminder Singh, member in charge and additional secretary, and by Principal, Dr Dharam Veer Singh. The programme commenced with recital of school shabad followed by a colorful welcome dance. This being a Golden Jubilee year of the school, a special choreography was presented, which showed various phases of human life. In the same way different phases of school, too, were shown beautifully. The show "Must go on" was a message conveyed to all. The chief guest and other dignitaries presented trophies to those, who excelled in academics, and also encouraged others to follow in footsteps of achievers.
UBS launches 'In-Lab'
The University Business School (UBS) of Guru Nanak Dev University (GNDU) organised an event to launch innovation lab titled 'In-Lab'. Prof AS Sidhu was chief guest of the event. Dr BS Maan, head, UBS, was special guest on the occasion. Dr Vikram Sandhu, organising secretary, apprised students about entrepreneurship and 'In-Lab'. Dr Vikram Sandhu welcomed entrepreneurs of the region — Abhishek Kashyap, founder, Food Trails of India, Saranpreet Kashyap, Varun Mehra, CEO, Mehra Dyeing Milling and Raising Works, Varinder Singh, founder, Pick-a-Tea— on during the event. Sameer, manager, NITCON, and Jainendra Singh Bisht, manager, Bank of India, elaborated on various funding schemes and sources of finances available. The event also comprised business plan presentations by UBS students in which they discussed their ideas with participants and experts from industry and university. More than seven business ideas were presented by budding entrepreneurs. In-Lab is an incubation laboratory of the UBS to promote entrepreneurship and innovation amongst university students to boost their growth by offering them practical resources like workshops, seminars etc. Focus of In-Lab is on giving students exposure to the real world and a chance to apply their knowledge in their dream project.
Lecture on epigenetics control of genome
The Department of Human Genetics of Guru Nanak Dev University organised a special lecture on "Epigenetics control of the genome and its implications for human diseases" at the seminar hall of the Department of Botanical and Environmental Sciences. Dr Shiv IS Grewal, an investigator from National Institute of Health, USA, was the keynote speaker on the occasion. While talking on epigenetics control of the genome and its implications for human diseases, Dr Grewal threw light on some factors that play a role in promoting inheritance through phenomenon other than those, which involve genes. He said these factors affect the structure and functioning of an organism. The talk reflected on the recent findings of biological sciences, which now contradict the existing established theories. The lecture focused on implication of understanding how abnormal activations of cancer genes could trigger cancer. An interactive session between the guest speaker and students as well as faculty members followed the lecture. The session was chaired by Dr Avinash Kaur Nagpal, dean, life sciences. Dr Vasudha Sambyal, professor of the human genetics, welcomed the chief guest and others. Dr Sanjana Mehrotra presented a vote of thanks. — TNS