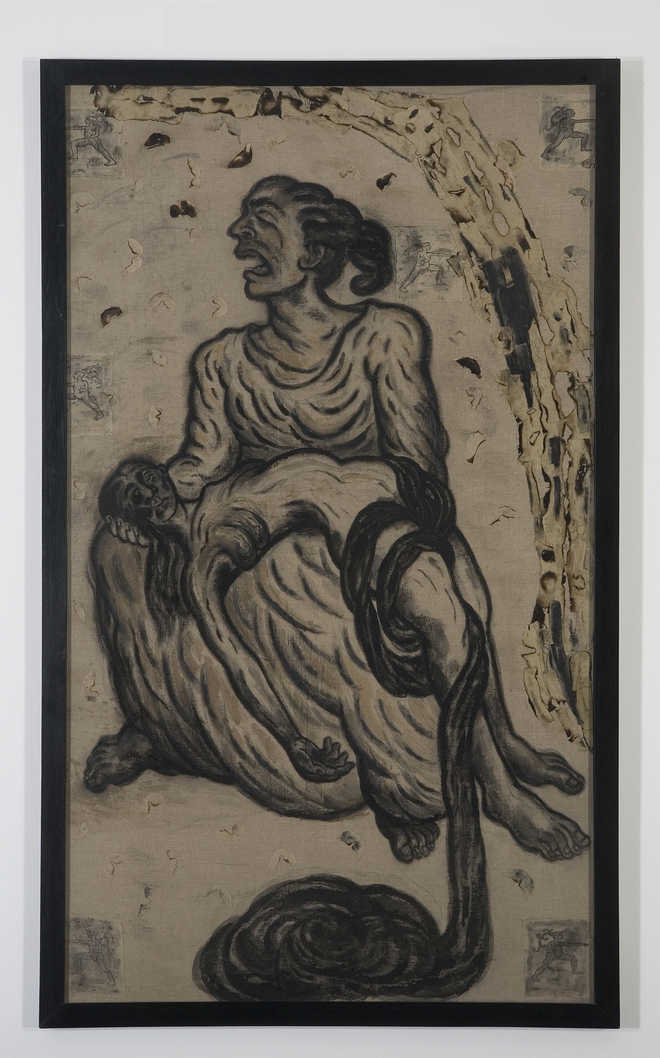 singhking99@yahoo.com
Arushi Chaudhary
After a gap of eight years, India is participating at the Venice Biennale with a show titled Our Time for a Future Caring. The show celebrates 150 years of Mahatma Gandhi and features works of eight artists whose work reflect a deep sense of engagement with Gandhian beliefs and principles. One of the artists handpicked for the exhibition is Mumbai-based Shakuntala Kulkarni. Her works comprise two cane sculptures, accessories and seven photographs from her project Of Bodies, Cages and Armours.
The multidisciplinary artist's vast work largely revolves around the disposition of urban women in the spaces that surround them. However, that's not how her journey into art began. In the 1970s, Shakuntala started with abstract painting and her focus shifted to multimedia installations, moving images and performance videos gradually over a span of nearly three decades.
Talking about the transition, Shakuntala says, "When I started painting, my focus was on addressing formal concerns of colour and space through abstract designs. In the 1980s, while on scholarship at Shantiniketan in Kolkata, I travelled to Midnapur to see a theatre performance, and saw poverty like I had never seen before. And here was a group of artists trying to improve the lot of these people through art. I promised to contribute by making posters for them. That marked the shift from abstract works to human figures."
Theatre has been a huge part of Shakuntala's formative years, thanks to her family's close involvement with it. When she shifted her focus to depicting human figures through art, hope and existential philosophy were the most prominent themes in theatrical performance, and these became the inspiration for her own works too. Some of her early works on human figures are monochromatic in nature, and bring out a sense of silence and stillness. The resignation in these works is reflective of the predicament of the people, of things wrong in the systems and the wait for change — a Waiting for Godot-like scenario.
Gradually, Shakuntala's focus shifted to women. "Even though I come from a liberal family of artists, growing up in Bombay in the 1950s, I did experience certain restrictions on women outside the comfort of my home. These personal and shared experiences influenced the changing course of my art, propelling me towards gender-specific themes," she says.
The first prominent work focusing women in indoor spaces was Beyond Proscenium in 1994. Shakuntala used steps, platforms, railings and screen to obstruct free viewing of her art, invoking a sense of tension and uneasiness in the viewer. It was also the first time actual theatrical performances were stages around her work, with actors, musicians and dancers extending the mood of her work through movement, sound and rhythm. This was her first attempt toward blurring the boundaries of different art forms to articulate her message better.
In the late 1990s, Shakuntala started working on installations inspired by the stories she gathered at the regular meet-ups that her mother-in-law and her group of friends participated in. As she sat there taking notes, an oral narrative was taking shape somewhere in her mind. This experience translated into her installation, Grandmother's Tales, where concepts of space and time are reflected through the medium of film in an intimate setting. "The protagonists here are women from middle-class Brahmin families who have comfortable lives and yet they each have their own stories and understanding of struggle with the social structure," Shakuntala says.
"When I started working with these installations, I did not even know what they were called. We used to refer to them as 'construction'. The concept was fairly new in India and only a handful of artists were experimenting with it. I was drawn to the idea of portraying things on a large scale as it helped convey the idea of women in confined spaces and created an element of discomfort for the viewers aesthetically," she recalls.
Around the same time, Shakuntala also worked on drawing women in different postures and situations. In solitude, naked and looking at her onlookers defiantly, and so on. These figures were painted on fabric pieces and then stitched together using the Godhadi technique. That's how her work Godhadi came to life. In And When She Roared The Universe Quaked too, the artist relies on multimedia installations to bring the spotlight of women's roles, restrictions and rights. Here she also uses childhood games like kho-kho, kabaddi, the trust game and tug-of-war as symbols of women's struggles and oppression.
The continually growing incidence of atrocities against women and rise in rape, molestation, acid attacks, female foeticide, dowry deaths inspired her masterpiece Of Bodies, Armour and Cages. After a long struggle to find the perfect material to create armour for women that would symbolise protection and restriction at the same time, travelling to different part of the country, Shakuntala settled on cane and found a person to assist her in the process of translating her drawings into cane armour that could be worn. It took over two years to complete the work.
She then used these bodysuits and spiked helmets as a tool to voice her dissent against different pertinent issues plaguing society by posing in these constraining exoskeletons at different important landmarks across Mumbai. "I once donned the armour and crossed a very busy lane in Shivaji Park and for a moment the traffic stood still and everyone's gaze was on me. That's when I understood the potential of art as a tool of public intervention." The work is a complex statement on the need for our women to protect themselves from forces that infiltrate their intimate spaces and dominate them in the public realm. The armour acts like a layer of protect but also cages its wearer, thus, bringing out the paradox of protection and restriction.
Her work at Our Time for a Future Caring reflects the Gandhian philosophy of resisting violence, blurring societal hierarchy and working with indigenous materials and local artisans.
All readers are invited to post comments responsibly. Any messages with foul language or inciting hatred will be deleted. Comments with all capital letters will also be deleted. Readers are encouraged to flag the comments they feel are inappropriate. The views expressed in the Comments section are of the individuals writing the post. The Tribune does not endorse or support the views in these posts in any manner.