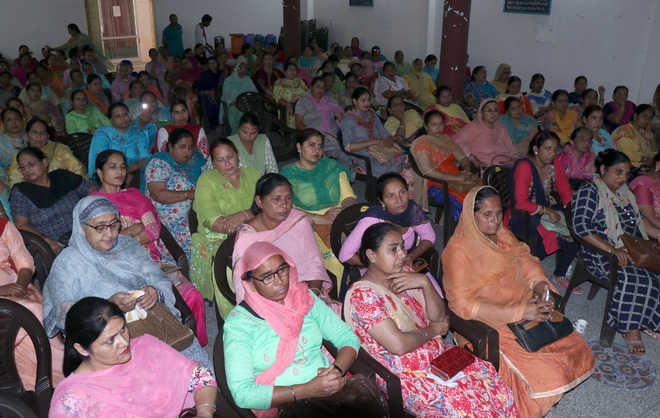 editorial@tribune.com
Tribune News Service
Bathinda, April 20
Members of the All India Anganwadi Workers' Union have decided to launch a state-wide protest over their pending demands on April 28. During a meeting held on Saturday, representatives of the union said they would gherao Finance Minister Manpreet Badal's office during the protest.
The union leaders said during the state-wide protest, they would also stage a protest at the home district of Minister of Social Security and Women and Child Development Aruna Chaudhary.
Addressing a gathering of anganwadi workers and helpers at Teachers' Home, Hargobind Kaur said, "After observing the no-positive response of the administration and the state government, we have given a call for a state-level protest on April 28. The Central Government had increased the honorarium of angandwadi workers and helpers by Rs 1,500 and Rs 1,000 last year, but the state government has failed to provide the same.
"The government had even decided to provide an ex gratia of Rs 1 lakh to anganwadi workers and Rs 50,000 to helpers retiring at the age of 70, but it has not provided the same. The demand for regularisation of jobs has been lying pending for decades and there are no retirement benefits for anganwadi workers. The government had promised that they would provide ex gratia to them, but even that was not provided. We also demand retirement benefits for those anganwadi workers who have put in many years of their service."
Hargobind Kaur said more than 54,000 anganwadi workers and helpers in 22 districts of the state had been rendering their services for decades now. But when it came to fulfilling their basic demands, successive governments failed to fulfil them. There were high hopes from the Congress government but even after two years of its rule, things have not changed for us. Now, we have decided to launch an attack against the state government."
Top Stories