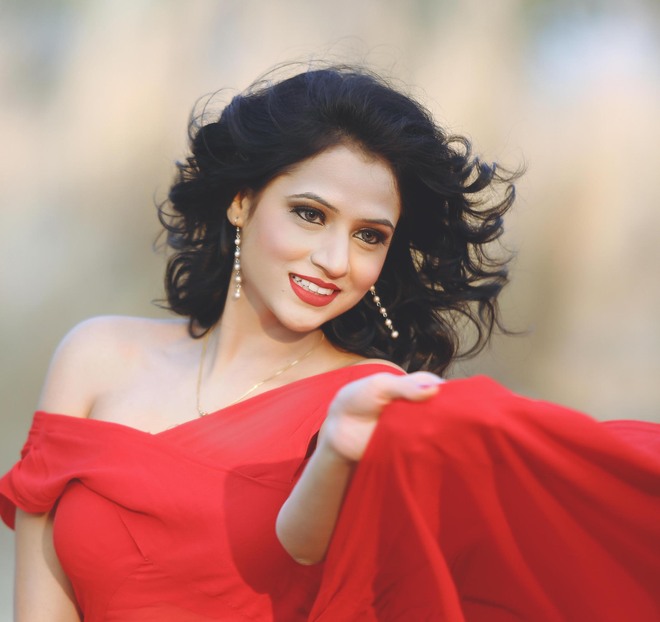 editorial@tribune.com
Neha Saini
Tribune News Service
Amritsar, November 19
Oshin Brar (Sai), who was seen making her debut with Punjabi film 'Shareek', is a busy girl these days. The girl, who hails from Chandigarh, will be seen opposite Diljit Dosanjh in Punjabi film 'Mukhtiar Chaddha', one of the most anticipated Punjabi films of the year. And she is still in disbelief.
"I was shooting for the video of song with Diljit Dosanjh, when he informed me that I will play the lead opposite him in his next. For a moment, I almost froze as I couldn't believe what he said. But he said that I was apt for the role and I knew then that my life was going to change forever," she said. Oshin plays a down-to-earth, simple girl from Delhi, who is easily influenced and falls for the character Diljit plays. "It's quite opposite to what I am in real life. It's exciting to share the screen with a star like him and I feel he is the 'Salman Khan' of Punjabi cinema. Recently, the star cast of 'Dilwale' met Diljit and the star cast of 'Mukhtiar Chaddha' and even promoted the film by enacting the famous dialogue from the film. Imagine the popularity of Punjabi stars."
While the film releases on November 27, Oshin says she is confident that it will work with audience as it has a good script. "Punjabi films are changing, not every film will throw foolhardy in the name of entertainment in the audience's face. 'Mukhtiar Chaddha' will work because of lot of positives, a good star cast, great story and of course, quality production values." A product of Anupam Kher's acting academy, Oshin says that too many Punjabi films being made is hampering the quality of the cinema. "The industry experts should focus on quality, instead." She also says that time has come for Punjabi film industry to back its leading ladies. "Though, we have seen a lot of Bollywood actresses featuring in Punjabi films, but I feel that have to struggle with language and characters".