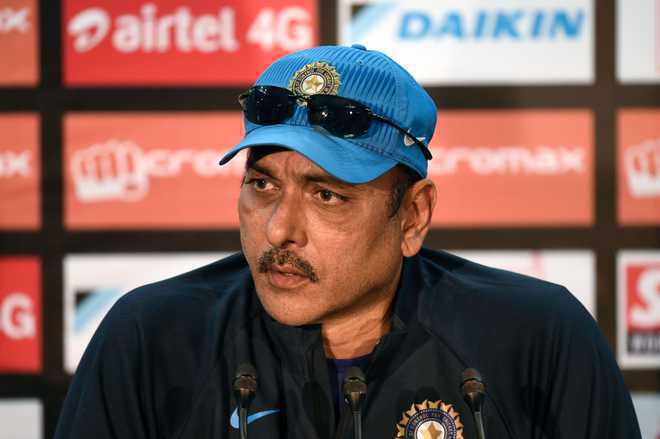 sanjiv@tribunemail.com
Ravi SHASTRI was given another term as head coach of the Indian cricket team on Friday, after he and four other candidates for the job were interviewed through the day. Shastri's success surprised no one due to two reasons: One, India's record under him is quite good; and two, team captain Virat Kohli wanted him to continue in the job. The interviews were a formality, actually — the matter was more or less settled on July 29, when Kohli declared he would be 'very happy' if Shastri continued. We all know what happens when Kohli is not happy — Shastri's predecessor, Anil Kumble, had a good record as well, but he had to go because Kohli wasn't happy with him. In defence of Kohli, it must be said that a conflict between captain and coach can only harm the team. A captain must be given a coach he can work with.
Kohli and Shastri have worked well together over the last two years. India's record during this time is very good — the team is No. 1 in Test cricket, No. 2 in One-day Internationals and No. 4 in T20 Internationals. The current team is possibly the best Indian ODI team of all time. In Test cricket, under the current regime, India won a series in Australia for the first time but lost 1-2 in South Africa and 1-4 in England — the last series were much closer than the scoreline suggests.
Shastri's failures in terms of planning are significant. India's World Cup campaign was doomed due to a brittle middle-order. Shastri and Kohli could not solve the riddle over who would bat at No. 4. MS Dhoni, 38 now, was the second weak link in the batting order. That brings us to Shastri's failure to mentor Kohli into being a mature leader: Dhoni was in the team mainly because Kohli tends to lose his cool when the team is fielding. He needs a cool-headed man such as Dhoni around. Kohli, who turns 31 in November, needs to mature and mellow — urgently. Hopefully, Shastri would be able to help with this in his next term.
Top Stories