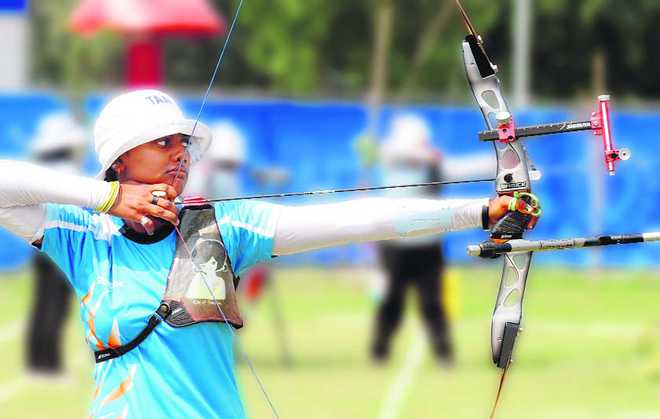 ROBINSINGH@TRIBUNE.COM
Sabi Hussain
Tribune News Service
New Delhi, July 6
India's archers hope to secure their first-ever Olympics medals at the Rio Games, but there's a hitch — for the first time in the Olympics history, archery competitions will be conducted under floodlights. The event will start in the morning, but since it is winter season in the southern hemisphere, the days will be short in Rio. Thus there's every possibility that the matches will stretch until late in the evening, when it's likely to be very windy, too.
The Indians are dreading this scenario. This format was first introduced during the Test event at Rio last year, where the Indian archers also participated. But their lack of practice under lights makes them wary.
The archers have been practising during day-time on most days at the SAI Centre in Bengaluru. The venue does have floodlights, but according to some archers, they don't get enough light in the practice arena. The archers believe that it would be a challenge for them to gauge the trajectory of the arrow under lights. Then there's the likelihood of the stiff wind, too.
"We haven't practised much under lights, though this new rule has been there for almost 10 months," said India coach Dharmendra Tiwary. "The conditions there would be different from what we have been practising under in Bengaluru. We are short of training under lights. Once we reach there, we'll have to figure out how much the arena would be lit during the competition."
Deepika Kumari, India's brightest medal prospect for the second successive Olympics, sounded a little low on confidence when asked about competing in the evening. "This is not good news for us. Although we have practised in the evenings, but there's a huge difference competing during the day-time and in the evening. Our sport is all about mental toughness. We have to adjust mentally to this new innovation."
To get the archers acclimatised to the conditions, the Archery Association of India (AAI) has decided to send the team to Rio on July 8, four weeks before the start of the Olympics. The hope is that this would enable them to have several practice sessions under lights.