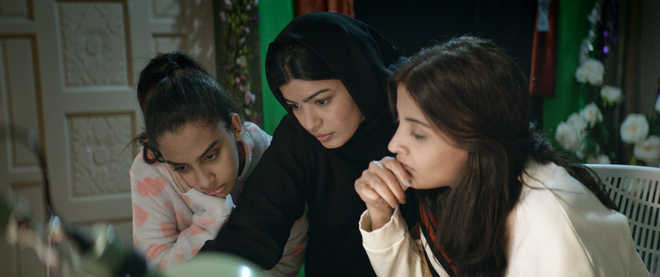 Gautaman Bhaskaran
Two years ago, Saudi Arabia came to the Cannes Film Festival with a large contingent. The Kingdom had just opened up its cinema after a 30-year ban on any form of entertainment. But as early as 2012, Haifaa al-Mansour had made her first movie. Titled Wadjda, the first-ever film by a Saudi woman director went to the Venice Film Festival, and got noticed.
Wadjda had a delightful story to tell us. About a little girl who wants to buy a bicycle — in a country where girls and women are not allowed to pedal — to race boys and win! Finally, she does get her cycle.
One remembers Haifaa telling this movie critic at Venice that she had a tough time helming her debut feature. In a highly patriarchal society in which men just do not like taking orders from women, Haifaa had to sit inside her van and instruct her male actors through a loudspeaker! Obviously production values took a hit, and probably her patience ran out.
She left for England, and later America, and made two films, Mary Shelly and Nappily Ever After. While Mary Shelly (2017) was a romantic period piece about the titular character's relationship with the great English poet, Percy Bysshe Shelly — that inspired her to write Frankenstein or The Modern Prometheus, Nappily Ever After was an American romantic comedy.
These two movies hardly made a mark, and sank. But her latest outing, The Perfect Candidate, which competed for the Golden Lion at Venice, is set in a town close to Riyadh, and the ease of working on home ground clearly shows.
Like Wadjda, The Perfect Candidate also talks about defiance, this time it comes from a young woman doctor. Fed up with conditions in her town, especially the badly broken road leading to her clinic that delayed critically ill patients from reaching help on time, she, Maryam (Mila Alzahrani), decides to contest the local municipal election. She coaxes her two sisters to help her out in her campaign, which again is not easy. She cannot appear before men to make her political speeches, and has to use a monitor like a television broadcast!
In a media conference just after The Perfect Candidate was screened at Venice, she said: "Cinema is a tool for change and a way to introduce new ideas. For Saudi women — and women in the Middle East, in general — there is a lot of push now. Women can vote and drive, but mostly they are reluctant to accept those roles.
"I want more women to be active members of our society. It's going to be hard … but there is a momentum change in Saudi Arabia now, and it's a chance for women to take advantage of it. By making a film like this, I want them to feel it is not the end of the world if you run for office and lose.
"I wanted to make a movie about a strong woman who takes centrestage but who also needs support from other women. It's a film about sisterhood. When it comes to leadership positions, women face similar barriers the world over. Of course, this is more pronounced in the Middle East, but it's also noticeable in the West. I felt this was a timely story about how women can move forward.
"I also wanted to tell a story about people I know. The main character is based on my sister, who is a doctor. Many of my characters are based on the people I know. Wadjda was based on my niece", Haifaa added.
The Perfect Candidate looks like the start of a movement that will see women in the Middle East closely associating themselves with cinema.