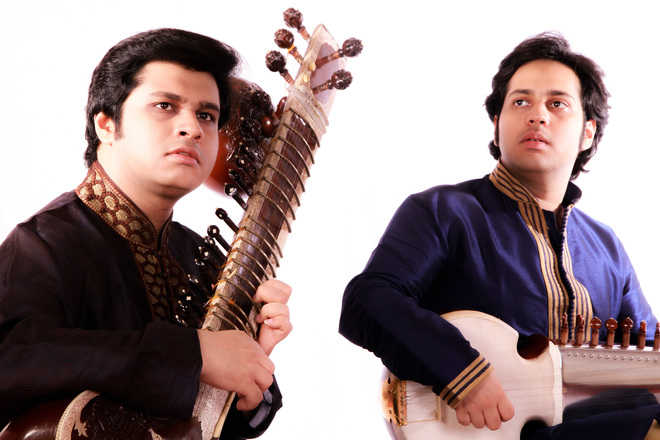 Neha Kirpal
Mediocrity is a dangerous thing. It pulls you down to its level. This mediocrity is threatening Indian classical music, feel Mohan Brothers and believe that only an educated audience can save it.
Sitar player Lakshay Mohan and sarod player Aayush Mohan do not hail from a family of musicians; their parents were just in love with music. Strains of stringed instruments swayed through their house and all concerts were attended. It left an impression and they weren't teenagers yet when they realised music was their calling.
The brothers, who will be performing at the 17th edition of the Lalit Arpan Festival of Asavari presented by Shovana Narayan and Jyotsna Suri in Delhi next month, strongly believe that education in music is extremely important for the preservation of our classical tradition. "Basic education about Indian classical music can play a crucial role in creating awareness about it and saving it from mediocrity. The more educated the listeners are, the more will be the pressure on musicians to deliver genuine and aesthetically driven music," they add.
The duo began training under Pandit Balwant Rai Verma, the seniormost disciple of Pandit Ravi Shankar. Aayush's training under Padma Bhushan awardee Sharan Rani helped him understand the intricacies of sarod playing. Lakshay's training with Pandit Uma Shankar Mishra enabled him to visualise the canvas of sitar playing as well as the technical aspects of instrumental music.
Over the years, the siblings have perfectly tuned into each other's aesthetic vision and imagination and have even evolved their own unique jugalbandi. "Jugalbandi should be more about complementing rather than competing with each other," says Aayush.
Lakshay feels it is important to understand each other's musical vision too. They feel that as classical music is all about spontaneous improvisation, it is very important to read the other person's mind during a performance and to have a strong musical reflex that allows the two of them to engage in a musical dialogue. "All this can only happen when two people have grown up and practiced together for many years, understanding each other's approach to raag vistaar," he adds.
In 2012, Pandit Ravi Shankar heard them and decided to launch them under the Ravi Shankar Foundation for their debut US tour, which took place in April 2015. The last concert of their debut US tour was at the Grammy Museum, Los Angeles, for the launch of the exhibition, Ravi Shankar: A Life in Music. They were the first Indians to be invited to perform at the museum.
Mohan Brothers have cut two albums, The Majestic Court and Echoes from the Yellow Land. The latter features short, crisp compositions and were composed keeping in mind the world music genre in which the duration of each of the tracks is no longer than five minutes. They feel the album could act as a gateway to Indian classical music for new listeners. That is one way of educating their audience.
Top News
Hundreds are still believed to be trapped under rubble, and ...
Chances of Parliament taking up a discussion on Motion of Th...
A Muslim man alleged he was assaulted and abused in the name...
Frank Hoogerbeets describes himself one having 'utmost respe...
Will be produced before the competent court in Mohali on Tue...