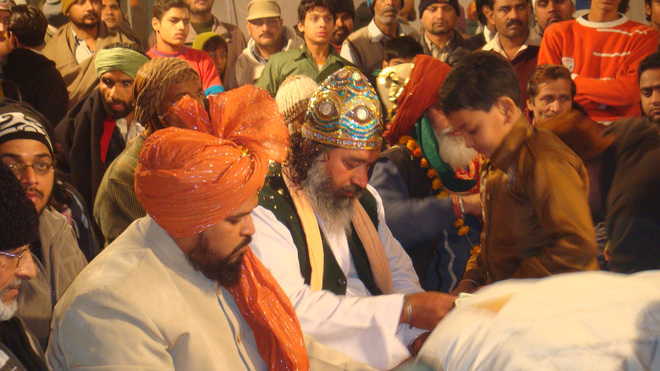 Yogesh Snehi
Contemporary Amritsar has traditionally been associated either with Golden Temple or Durgiana temple. While Golden Temple emerged in Mughal India, Durgiana Temple emerged in the early twentieth century as a result of religious reform movements that led to polemical debates on religious boundaries in South Asia. However, Amritsar is also dotted with unique street shrines that defy easy classification as 'Hindu', 'Sikh' or 'Muslim' shrines and practices. These shrines are a blend of pre-Partition and contemporary shrine practices. The city memorialises several Sufi mystics each year through Urs celebrations in the memory of Sakhi Sarwar (Baba Lakhdata), Baba Farid (Fariduddin Ganj-i Shakar), and several other pirs, transforming the space of the walled city, engaging people from diverse spectrum of caste, class and religious hierarchy, defying communal stereotypes.
Sakhi Sarwar's public presence is visible through commemorative practices such as Urs organised annually in the memory of the saint by Sai Baba Gope Shah 'Chishti Faridi Sabri' since 2000. In 2007, the practice of organising a qawwali darbar was also started. Since then, Daman Sabri, the darbari qawwals of Kaliyar Sharif, perform at the occasion. During the annual Urs organised at the telephone exchange chowk in 2010, Sufi Rashid Mian from Delhi, Sai Baba Mehshi Shah 'Chishti Faridi Sabri' from Batala Sharif and Baba Gope Shah from Amritsar were present. The fair is attended dominantly by non-Muslim audience, except for migrant Kashmiri Muslims artisans who participate, and is organised under the banner of Anjuman Ghulame Chishtiya Sabriya, an umbrella organisation of Chishti Sabri followers in Punjab. It was founded by Baba Ghulam Jilani of Kaliyar Sharif that includes Aroras, Brahmans, Khatris, Mahajans, Ravidasias and Valmikis from several religious affiliations. Interestingly, the branch at Amritsar does not consist of Muslims.
Baba Farid, one of the most significant Punjabi saints, also remains alive in Amritsar through commemorative practices. Considered to be the father of Punjabi poetry, his contribution to vernacularity of Sufi mysticism is immense. Farid was a disciple of Qutbuddin Bakhtiyar Kaki, whose shrine is situated at Mehrauli in Delhi. Sabir Pak was a direct disciple and nephew of Baba Farid and founded the Sabiriya branch of Chishti mysticism in western Uttar Pradesh. This intimate link between the shrine of Baba Farid at Pakpattan in (Pakistan) Punjab and Sabir Pak in Uttar Pradesh finds its contemporary relevance in the spread of the latter in Punjab, whose direct relationship with Baba Farid's shrine at Pakpattan was severed post-Partition. Baba Ghulam Jilani had been a frequent visitor to Amritsar after the Partition. He also played an important role in organising Sabiri fraternity in the city through the circulation of mystic literature, ideology (via ritual intermediaries and musicians) and a wider network of shrines from Amritsar, Batala to Patiala.
Commemorative practices have also found expression in the foundation of a minor Valmiki shrine in the memory of Baba Farid that was laid near Lahori Gate in December 2007 and a lamp was lit by Baba Ghulam Jilani. Morning and evening prayers at this shrine are performed in the Sabiri tradition. Every year, on the same day, an Urs is organised by the community of the area that comprises primarily of Dalits. The youth of the area organise regular pilgrimages to several places associated with Chishti sufis like Kaliyar Sharif in Roorkee, shrines of Shamsuddin Panipatti and Bu Ali Qalandar in Panipat, Nizamuddin Auliya in New Delhi and Muinuddin Chishti in Ajmer. Several dalit families of the locality have been venerating pirs for several generations and have dedicated a corner of their house to pirs.
Kaliyar helps in legitimising Punjab's relationship with Shaikh Farid and Baba Lakhdata. This new relationship is further mediated through popular 'Sabri' identity.
The continued assertion of pre-Partition social identities in the present times is an exercise in critiquing the communal discourse of Partition. However, it is a paradox that while popular Sufi shrines and practices have remained alive in India, shrine and ritual practices have been frequently bombed in Pakistan.