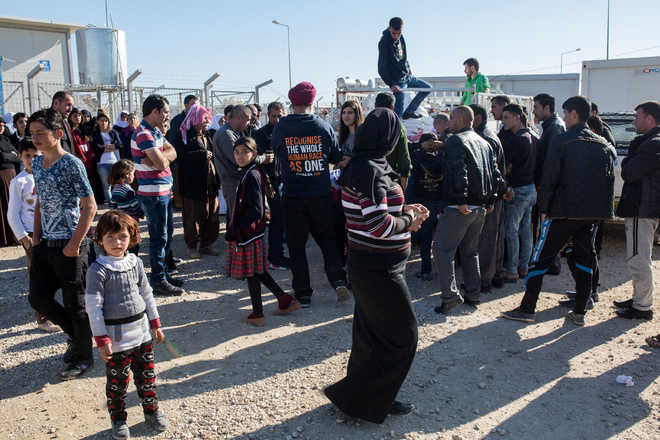 Ashima Sehajpal Batish
Chandigarh
The day is left with a few minutes of sunlight. Realising that we must make the most of it, a photo-op is scheduled immediately. We are duly warned that he gets mobbed by fans. But soon the word of caution is thrown to the wind. It happened last time when Ravi Singh came visiting the city. It took him two hours to reach the third floor of a shopping mall from the ground level. All along, people wanted selfies with him and his autographs. The more enthusiastic ones wanted to tell him that his work is celebrated in India.
Ravi Singh is acutely aware of his celebrity status. It, however, comes with a baggage of suspicion. Yes, suspicion. How he is loved, admired and appreciated by the public is in complete contrast to how he is viewed by the authorities. "I have set up langar in Syria and Iraq and Congo, but nowhere have I felt so 'cautious'. There is a very thin line between life and a blast in war zones. That doesn't scare me. But it disturbs me when those in power doubt my intentions."
This is the only time his forehead is marked with a slight furrow — in our interaction of nearly two hours. At other times, he is cracking jokes even as he shares anecdotes of his experiences in war-torn nations. "Humour keeps me going." It also kept him going when Khalsa Aid suffered its first-ever troll in mid-September. As the organisation's volunteers were struggling to feed 35,000 Rohingya refugees in Bangladesh, a certain Sonam Mahajan, whose account boasts of 10k followers, tweeted, "Khalsa Aid has cases of terror funding against it."
Ravi responded by posting pictures of the organisation's missions across the globe, serving people of different nationalities. And tweeted, "Not only Sikhs, we also assisted Hindus during the 2005 earthquake & 2009 SWAT crises. and you?"
The question has remained unanswered.
The controversy instead raised questions — of the times we are headed to, a society confused about its secular status, and what is more important, humanity or religion. Ravi and his organisation are crystal clear about their stance. "We get a deluge of calls requesting donations to build gurdwaras, while there is already a minimum of three in almost every village of Punjab. The count in cities is even higher: 10. Don't we need more hospitals and schools instead?"
He makes a statement and raises another question at the same time. But when the country is learning to make peace with misplaced priorities, such 'requests' don't surprise him. "We have issues with Valentine's Day, people's diet, their orientation, a film's release, students' festival. Wish the real focus was on real-world problems — on sufferers of natural calamities, on those stuck in conflict zones."
However, once in a while dejection creeps in. People around him too pose the same query, "You might find wi-fi in a village of Punjab but you won't get social justice. How do you ensure you don't give up?" He reassures us, like he does others: Giving up is neither an option nor a solution. "One day, a volunteer in Syria called up and began sobbing. She just managed to save a woman and her three children from committing suicide for lack of food. If our langar services hadn't reached on time that day, she would have called up for a different reason."
By this hour, smog sets in. Not many travel from the West to North India during this time of the year. Not from England for sure. Does it vex him? "I have survived amid war. Certainly, I can endure pollution, but you can't undermine the threat it is to mankind."
We only need a war against pollution, he insists.
---
One for the world
patiala
Frames on a wall capture most of the 22 missions Khalsa Aid has undertaken in India. It is the second thing that catches the attention as you enter the Patiala office of Khalsa Aid, their centre of coordination in India. The first is, the quiet in the otherwise bustling market of SST Nagar. It's Gurparb, all shops and offices around are closed but for Khalsa Aid's. The setting inside is modest — cane furniture, two work desks and two desktops. There are only six permanent staffers, the rest who work with the organisation are all volunteers, there number ever swelling. A waiting list for missions, thereby, is a constant.
"Youngsters are discredited for not being empathetic enough. But the fact is, they outnumber those in their thirties who enrol with us to volunteer for our missions," says Amarpreet Singh, Asia-Pacific head, Khalsa Aid. He and his team also ensure that they present volunteers the true, deglamourised picture of the affected area. "We arrange for the travel expenses but it's not a paid holiday. It is hard work." At times, it is far more than that, it is emotionally draining as well. "During Kashmir floods, a woman in her thirties requested us to pull out the bodies of her husband and son from an eight-feet flooded area. We had never thought that handing over corpses of loved ones can also give a strange comfort to someone."
This year, floods in various parts of the country have kept the team busy. Fortunately, there hasn't been a fund crunch. People across the world see their work and donate for the cause. "At the same time, we realise, transparency has to be maintained. We tell donors to direct the funds to the victims. All donations are transferred from account to account." It's this, besides the good they are doing to those in need that makes them stand apart from several other charitable organisations.
They believe in and strive towards sarbat da bhala.