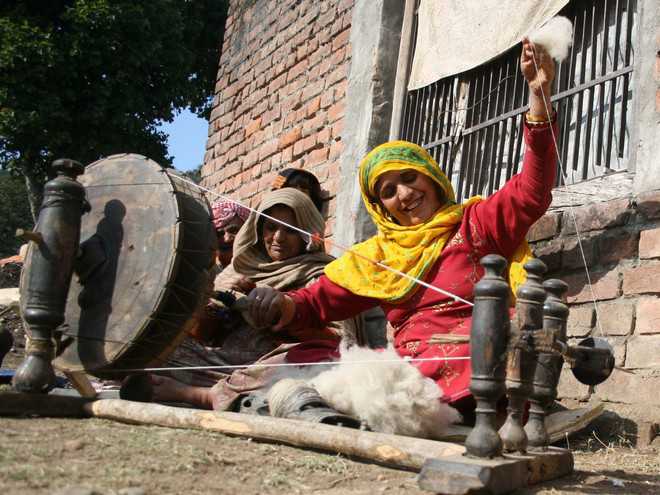 Jasmine Singh
Within days of the Prime Minister Narendra Modi asking people to buy khadi in one of the episodes of Mann Ki Baat, an official statement released by the PMO said that there had been a 60 per cent increase in the sale of khadi. The fabric, closely associted with the freedom movement and national pride, found a place in almost every Indian's wardrobe! But with market shelves adorned with an array of synthetic products, customers still find it difficult to be loyal to this swadeshi cloth promoted by Mahatma Gandhi. Even though, youngsters, entrepreneurs, fashion designers and the government are trying their best to give a glamour quotient to this humble fabric to make it popular, this depends on many factors.
Facts and figures
The launch of khadi denim wear by micro, small & medium Enterprises (MSME) ministry has given an impetus to its sale figures. As compared to the first half of 2014-2015, when the sale of khadi was rated 'poor', the last two quarters of 2014-2015 saw a sudden rise in the figures from Rs 581 crore to Rs 753 crore. People from the khadi industry attribute it to the appeal by the Prime Minister.
Ram Nath, chairman of the Punjab Khadi Mandal, is quick to point out that the sale of khadi products, especially of readymade garments and khadi silk, increased by 25-30 per cent after Modi's speech. But then improved and trendy designs of khadi clothes and availbility of designer wear in khadi are equally responsible for people opting for the fabric.
Been there, doing that
Khadi, in its designer avatar might be a novelty for the young generation, and even for the aam aadmi, but many fashion designers swear by its versatility. Fashion designer Rajesh Pratap Singh came up with a khadi denim line almost three years ago. In 2014, Levi's launched a khadi denim line much to the surprise of denim lovers.
The usefulness of this fabric prompted Siddharth Mohan Nair, an engineer and lawyer from Kerala, to start Desitude, an online platform that sells khadi jeans. This four-month-old venture is pretty popular with the youngsters. Siddharth, who has adopted a Gandhian way of life, himself always wears kurta and dhoti. Smiles this 25-year-old, "I have a huge sentimental value for this fabric, and I am working towards making khadi the fabric of the country."
On Desitude, each pair of jeans is hand washed, sun dried and deep frozen before being delivered. It is the sun drying and deep freezing that help to kill bacteria. The best part is that one can do without washing the jean, if it is sun dried and deep frozen on a regular basis. "Khadi is an expensive fabric, which is true for khadi denims as well. My clientele is mostly people in the age group of 25-35. I get orders from people over 50 and 60 years as well," adds this young, happy-go-lucky fellow who will soon be launching khadi readymade garments.
The new stylish look of the khadi has created a lot of buzz about the fabric, even though it has always been available at various khadi outlets. Siddharth has something to say about it though, "The kurtas available at the khadi bhandaars are not pre-washed. Customers normally complain that the products (shirts or kurtas) shrink after two to three washes, a problem in the fabric that needs to be dealt with," he says.
Interestingly, this new swadeshi movement is finding many takers like Prasanna, a theatre personality and social activist, who has taken upon himself to make khadi and organic food popular among youngsters
Prasanna is keen on setting up a khadi institute at Badanavalu village, 30 km from Mysuru, on the lines of the Charaka institute at Heggodu in Shivamogga. As he works towards his dream of a khadi unit, Prasana feels the need for a mass movement to save khadi, "There is a need to improve the lives of handloom workers and also a need to put an end to synthetic products, only then can khadi be included in the mainstream."
The drive against synthetically treated garments has actually become huge. A shift towards organic clothes is pretty obvious.
Mainstream & homegrown
The Government of India has already initiated many ventures in order to make khadi a mainstream fabric. The aim is to take the youth back to their roots, by motivating them to walk the swadeshi path, stylishly in khadi!
The swadeshi movement, which is now known as the Make In India campaign, encourages people to use goods manufactured in India. In order to attract more people towards this campaign, khadi actually has to stand on its own feet. The traditional methods have to be replaced with better technology, which is why power-driven spindle charkhas are being used to make the work easier for workers.
So, the popularity of khadi is also dependent on the modern technology in a big way. There is a dire need to adopt state-of- the-art technologies for the khadi industry.
Apart from this, the launch of Scheme of Fund for Regeneration of Traditional Industries (SFURTI 2005) has promoted cluster development. "The Khadi and Village Industries Commission (KVIC) gives 30-35 per cent loan subsidy in rural areas to make khadi products, which attracts villagers to manufacture these products and earn some money."
Ghanshyam Dass, in-charge, Haryana Khadi and Village Industries Board, Bhiwani, says that this 25 per cent loan subsidy has encouraged many villagers to come together to create khadi products. "The best part is that they get to sell the goods directly in the market."
With khadi, in its fashionable avatar finding a decent space in our wardrobes, the swadeshi campaign seems to yield good returns. With better technology and better schemes, this fabric, which was born during our freedom struggle, should soon find a place of pride inside every Indian wardrobe.
Top News
Illegal weapons market flourishing along Pak-Af border
The hearing begins hours after 'sources' in New Delhi say In...
The Congress on Friday had alleged that police arrangements ...
His letter to Shah comes after the Yatra is suspended for th...