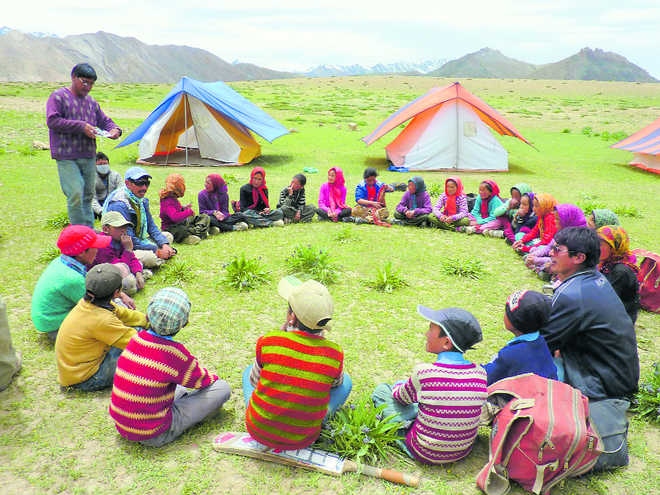 Sarika Sharma
Livestock venturing into wild animals' pastures; wild animals dying for want of food; leopards preying on livestock — a simple phenomenon called food has been driving man-leopard conflict in Spiti valley.
There isn't much people think they can do, but feel helpless. However, this is slowly changing in the cold desert. Nature Conservation Foundation (NCF) and the Snow Leopard Trust (SLT), along with the Himachal Pradesh wildlife department, are striving to help conserve the snow leopard while taking people along in the high altitudes of Spiti and Ladakh.
Snow leopard conservation began nearly two decades ago. Back then, agriculture and livestock were the traditional sources of livelihood with barley being the only crop. Traditionally, barley was not sold, giving livestock its importance. Any loss to that was a big blow.
As the habitat shrunk further, attacks on livestock saw a surge. Around that time, SLT and NCF had begun research on the wild cat in the area, which is one of its few habitats in India.
Kulbhushan Singh Suryawanshi, director NCF-India, says, "It is not uncommon for snow leopards to venture near or even into the more remote mountain villages. This can cause problems for local communities; the cat preying on domestic livestock being the most worrisome for them."
That is where the conservation programme began. That meant the leopards needed to find food away from settlements and the habitat of their prey — blue sheep and ibex — had to be protected. This led to protecting certain parts of pastures for the wild animals. "Our livestock insurance and corral improvement programmes are also responses to this issue," says Suryawanshi.
Ajay Bijoor, project associate High Altitudes with NCF-India, says the project was essentially about research on snow leopards. "Locals got along well with the researchers and over a period of time, a relationship was forged. Together we identified the problems, treaded along, trying to find solutions," he says.
The biggest challenge lies in the fact that the snow leopard is a landscape species. It lives across vast ranges that often extend beyond any protected areas. "For this cat to survive, local communities sharing its habitat must be willing and able to tolerate it and coexist with it," says Suryawanshi.
He says snow leopards are very sparsely populated. One in a 100 sq km maybe. "They are scattered across the landscape. They may or may not be inside a protected area (PA). A PA specific approach could not have worked. Together the wildlife department, NCF and the locals began conserving landscapes. It was decided that certain areas, such as slopes that are preferred by leopards, be protected. "It was decided that the locals would be paid a certain amount for voluntarily not grazing for five years, unless there was a drought or some other exigency. This has been carried out very nicely for close to two decades now." Five villages in Spiti now have reserve areas. There are reserves in Ladakh as well.
However, considering that many communities in the snow leopard habitat are predominantly shepherds, wildlife can be a burden for them. "With our programmes, we not only try to ease that burden, we also try to create opportunities for local communities to generate a sustainable income. Snow Leopard Enterprises is one example of this, and we're also about to launch a pilot project where communities agree to produce snow leopard-friendly pashmina, which can be sold at a higher price." A major transformation that has been seen in the last few years is the introduction of green peas as a cash crop. This has eased the dependence on livestock.
Bijoor says a very important part of the project has been engaging with the forest department. He says that while there is NCF staff, but it can never match the forest department's reach. "And they have good workers, including sherpas, at the ground level. We give them exposure of how things work in other parts of the country. Like some time ago, we took 20 people, including top officers and guards, to the Periyar Tiger Reserve, which is an excellent example of tiger conservation. We wanted them to see how they operate. How a guard in Periyar works? How is the community involved? How have they been brought into the fold?" Bijoor says.
Bringing into the fold also involves children. Twice a year, NCF holds camps with youngsters. "There are 20 schools in Spiti and we engage with all of them. Batches of 30 students stay with us for a few days in the outdoors and we talk about nature and conservation. This involves them with wildlife around them early on and aids conservation efforts," he says.
Women, who are not involved in the day-to-day activities of the villages in the area, were also made part of snow leopard conservation. "NCF's self-help agency Snow Leopard Enterprise helps them with building skills. They make handicrafts such as socks, caps, coasters and cup holders and we market them. This gives them livelihood when the area is snowed out," Bijoor tells.
Besides all this, research is continuing. "We keep looking for new threats. And threats keep changing, stray canines being the latest to dog livestock. Sterlisation plans are underway," he shares.
For now, the volunteers are planning to go back and retrieve the camera traps they set up in summer. The density of the leopards will tell them how much fruit have their efforts borne.
---
why is the region important snow leopard habitat
Ladakh and Spiti offer excellent snow leopard habitat with sufficient, if fragile, prey populations. They're key parts of the Indian Trans-Himalayan range, and thus a key part of India's snow leopard range
Area leopards cover
75,000 sq km
Estimated numbers
200-600
Threats to the big cat
Reduction of natural prey
Retribution killing for livestock loss
War and related military activities
Top Stories