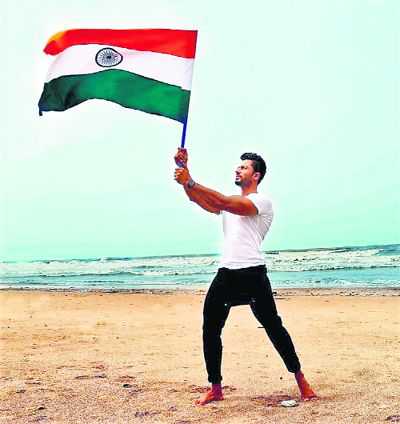 editorial@tribune.com
Ideally, patriotic fervor, a majority of us reserve for the select two days, annually, should be replaced with patriotic fervour all through the year. Ideally! But when are things ideal even in a free country? Since there is a lot to improve and make room for, we hear a few voices that are banging the desk about the changes they want to see in the nation. And of course what exactly does patriotism mean? To some, it's about the simple civic sense, to others it's about raising your voice against all that's wrong.
Educated thought
Avinash Mishra
For me, patriotism is not only holding the flag on that day or putting a badge on the t-shirt. I feel one thing that all of us should look at is education, if we really want to see our country on top. Personally, I follow Akshay Kumar's initiative Barat Ki Veer and urge all my fans to contribute towards the betterment of Indian Army and their families.
Remain honest
Aastha Chaudhary
The problem is that we get the feeling of patriotism only on 15th August or 26th January, and forget that we have to do our bit throughout the year. I feel that if we genuinely want to do something for the country, then we should work with honesty, pay taxes on time and value the armed forces.
Right direction
Anupama Solanki
As we all know India was known as Sone Ki Chidiya and I feel once again we are ready to be the most powerful country, as the new generation has that potential in them. Chandrayaan 2 is the recent proof of it. I feel we are in the right direction and as a responsible citizen, I support my country in all the initiatives.
Respect law
Rehaan Roy
I feel we all take our Independence for granted. We often forget how the freedom fighters fought for our country where we are living freely today. We should respect the law, follow the Constitution and actively participate in all campaigns that are run for our betterment.
Basic steps
Subuhi Joshi
Things can't change overnight. We should start taking some basic steps. So first of all, everyone should follow basic rules to improve our locality and our society. We should not give or take bribe, pay taxes regularly; no spitting or littering here and there, and say a strict no to dowry. We should raise our voice against any crime taking place in front of our eyes.
Beautiful culture
Malhar Pandya
I feel our country is the best because our culture is beautiful. But there are some people who are projecting our culture in the wrong way. We should find out such bad elements and punish them. That's the change I want. From my side, as an Indian citizen, I love my country; I vote and pay all my taxes.
Diligent citizens
Arif Zakaria
It's tragic that we now carry our patriotism on our sleeve, when it should exist in the air we breathe. There is no great mantra to make our country great, except to keep doing diligently what we all are doing in our daily lives.
Back to roots
Madhup Mudgal
It's surprising how most of our problems will go away eventually, if we actually realise the power of going back to roots. Be it food, music, culture, clothing; our USP lies in these factors and we'll realise our true potential only if we first start taking pride in what we truly stand for, rather than aping the west. While we are it, it's time we took pride in our nation.
Water vow
Sameksha
There are far bigger issues to worry about now. For instance, the floods and question of survival of so many people. Patriotism is not about sitting in a jacuzzi when so many people in your nation don't have access to clean drinking water. I recently made a 'water vow' that I'll go without bath for one day; if everyone in our nation were to do that, imagine the water we'd save. There is a lot one can do sitting in their homes. Save water, conserve energy, protect environment; patriotism is about doing all of that.
No jingoism
Akriti Kakar
One need not resort to chest-thumping or jingoism to prove patriotism. It has to come from within and when it does, even silently, it can be seen. It's about loving your country in the sense of respecting the laws and being a good citizen.
All readers are invited to post comments responsibly. Any messages with foul language or inciting hatred will be deleted. Comments with all capital letters will also be deleted. Readers are encouraged to flag the comments they feel are inappropriate. The views expressed in the Comments section are of the individuals writing the post. The Tribune does not endorse or support the views in these posts in any manner.
Cities