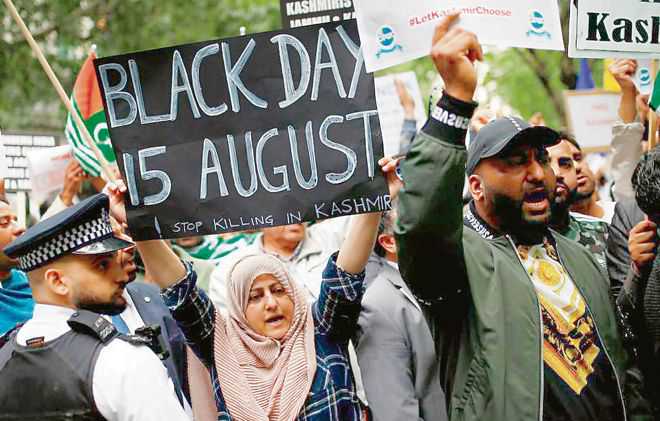 Vappala Balachandran
Vappala Balachandran
Ex-special secretary, cabinet secretariat
Two attacks on the Indian High Commission, London, within a month seem to be a new pattern of Pakistan's coercive warfare against India. In the past such attacks were confined to Afghanistan, having the advantage of official deniability. However, the London attacks, purported to be by the Kashmiri diaspora, have placed difficulties for India.
The London Metropolitan Police (MET) expects to be notified in advance for risk assessment and policing since 'thousands of events and processions including protest marches take place'. Also, London and several European capitals allow such protests even near the target embassies as an exercise of free expression. The police presence during such protests is minimal, unless they are convinced about possible violence. Also, several British parliamentarians and rights activists support such protests, which is the practice in any democracy.
It is not clear whether our intelligence agencies, which should have a kept close watch on the strong British Mirpuri population, had alerted our High Commission for briefing MET. If not, it is our lapse. It is high time we thought of some alternative steps instead of transferring all responsibility to the local police. For example, the US State Department created the Bureau of Diplomatic Security Service (DSS) after suffering several bomb attacks on their missions in 1983. The DSS is now an important federal law enforcement agency with investigation powers and security role to liaise with foreign governments. All foreign governments have to approach it when their VIPs travel to the US. In our case, our understaffed diplomatic security is merely an adjunct of the missions with no legal status or legal powers.
The 1984 Ravindra Mhatre case will make this clear. Mhatre, a 48-year-old diplomat working in our Deputy High Commission, Birmingham, was abducted by the 'Kashmir Liberation Army' (KLA). He was held captive for three days in the Alum Rock area, near Birmingham, predominantly inhabited by the British Mirpuris. The KLA demanded a ransom of 1 million pounds and the release of Maqbool Butt, facing a death sentence in Tihar Jail. PM Indira Gandhi rejected both demands. Mhatre's bullet-ridden body was found about 20 miles from Birmingham. KLA activists Mohammad Riaz and Abdul Quayyam Raja were indicted for the murder.
The job of diplomatic security is to anticipate possible repercussions after analysing domestic and global developments. Kashmir was boiling and abduction of diplomats and foreigners had started in Europe and West Asia. Had our mission in Birmingham been properly briefed about the Maqbool Butt case and its possible reverberations in a Mirpuri stronghold like Birmingham, our staff would have taken adequate security precautions. JKLF leader Amanullah Khan was operating from there and had organised huge protest conventions in Birmingham and Luton in 1981-82. Hashim Qureshi, another leader, had reached Birmingham in January 1984.
What was happening then in Kashmir? The repeated arrests and incarceration of Sheikh Abdullah, perceived as insult to the Valley, had created strong subterranean turmoil sliding into insurgency from the late 1960s with Pakistan support. Butt and Qureshi used to flip into the POK and back. Butt had a folklore following even as a child for valiantly frustrating Dogra raids into his historic Trehgam village by lying on the road.
The Jammu & Kashmir National Liberation Front (JKNLF) was formed in 1965 in Peshawar by Butt, Amanullah Khan and Major Amanulah, a former officer of Subhas Chandra Bose's INA. It became Jammu & Kashmir Liberation Front (JKLF) in 1977. The JKNLF became its armed wing. The idea was to liberate Kashmir on Algerian, Palestinian and Vietnamese models. They set up underground cells in Kashmir. Butt and others were arrested during an encounter in Handwara in 1966, when Amar Chand, a CID officer, was killed. However, Butt escaped to Pakistan from Srinagar Jail in December 1968.
It was a shooting at the Karachi airport in 1970 by the Eritrean Liberation Front against Ethiopian Airlines that inspired Butt to persuade Qureshi to hijack a Srinagar-Jammu Indian Airlines Fokker on January 30, 1971, to Lahore to give international publicity on Kashmir. They used a toy pistol and dummy grenade. The aircraft was set on fire on February 1971 after passengers were returned to India.
Although Pakistan welcomed them, the 1971 Bangladesh war and the fall of Dhaka found them being arrested as Indian spies. After their release, Butt crossed over to Kashmir in 1976. However, the mood there had changed after the 1974 Indira-Sheikh Abdullah accord. Butt considered this as a betrayal. He was arrested soon thereafter for a bank dacoity in which the bank manager was killed and was sentenced to death.
Around the same time kidnapping of diplomats and foreigners by terrorists for ransom started in the Middle East and Europe. Mhatre was abducted in a copy cat fashion. West Midlands police archives revealed that Pakistan refused help in arresting three suspects who had escaped to the POK. It is not clear whether our intelligence agencies were regularly following up police investigation through our High Commission, like the US or Israeli agencies who do it on priority. Abdul Quayyam Raja was arrested and convicted. British citizen Mohammad Aslam Mirza was arrested in 2004 from the US as his fingerprints matched that of Riaz. In 2005, the Crown Court acquitted Mirza. Media reports said the man who actually shot Mhatre was never caught.
Qureshi in his book Kashmir—The Unveiling of Truth holds Amanullah Khan responsible for Mhatre's murder while Khan blames the Indian intelligence for his killing to defame the JKLF. But he admits that some JKLF members had formed the KLA without his permission to get Butt released. Butt was hanged on February 11, 1984.