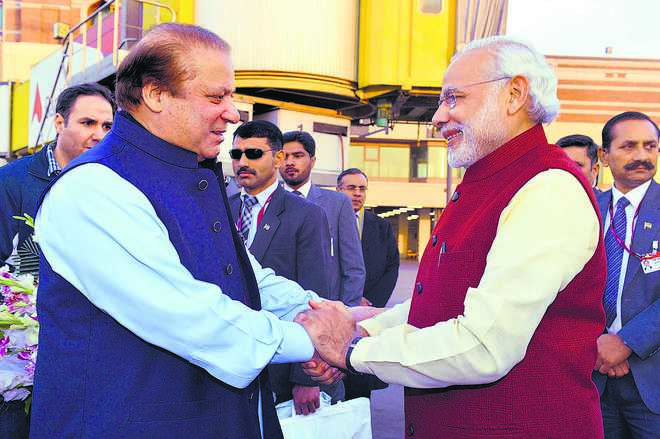 KC Singh
As Prime Minister Narendra Modi enters the last full year of his term, it is logical to audit his Pakistan policy, in focus recently. But geopolitics is a cruel game and personalised diplomacy does not always convert hard-nosed leaders of other nations to your cause, dedicated to safeguarding their own interests. In the case of Pakistan, the problem gets even more complex as recent vituperations of former President General Prevez Musharraf demonstrate. His love for jihadis was carefully concealed when making statesmanlike overtures. So, the question is to whom to trust in Pakistan and to what extent? The answer is the game is not about trust, it is about managing a difficult relationship where trust will follow engagement and not the other way around.
Modi commenced diplomatically with a dramatic neighbourhood gesture, inviting all leaders of SAARC countries for his swearing-in. Prime Minister Nawaz Sharif, despite his imperfections, is not a favourite of the Pakistani army. He took a personal risk to attend, knowing that the jihadi-army combine would retaliate. To assume that terrorism would end the minute Nawaz landed back in Pakistan was incorrect. In fact, India should have been prepared for an upsurge. But within weeks of assuming office, Modi was preparing chapter one of his "Congress-mukt Bharat", already eyeing elections in Maharashtra and Jammu and Kashmir in November. This did not allow him to be seen as soft on Pakistan, having captured power with a brew of jingoism and probity.
Thus began a cycle of episodic Pakistan engagement, followed by quick regression to confrontation and jingoism. Redlines to judge Pakistani behaviour were brought to the very fences of army camps. This passed the initiative to the average fidayeen as any attack now, whether traceable to higher-ups in Pakistani military hierarchy or not, was basis for loud retaliation followed by indeterminate claims of damage caused. The Indian army has always had an unwritten eye-for-an-eye code which was practised without publicity as some of the actions of both armies may tantamount to war crimes under additional protocols of the Geneva Convention. However, in Modi's India, silence was not an option as bloodthirst of the masses had to be whetted. Public platforms and social media were used to magnify the action-reaction game.
A leitmotif in Modi's electioneering has been the use of images and rhetoric of a muscular and nationalistic foreign policy, especially concerning Pakistan, into domestic electoral fodder. For instance, never before has a foreign head of state or government been hosted entirely in Gujarat without coming to the capital Delhi as was Japanese Prime Minister Shinzo Abe. Even Chinese President Xi Jinping only arrived in Delhi after sharing a swing with Modi by the Sabarmati river in Ahmedabad. Apparently, a similar fate awaits Israeli Prime Minister Benjamin Netanyahu, later this month. It would have been interesting to see whether this would have been retained in the programme had the BJP lost the Gujarat election.
Meanwhile, this Indian approach has allowed the India file to be permanently with the generals in Rawalpindi. On both sides, security establishments control the ebb and flow of relations, playing games regardless of long-term consequences. Pakistan, by entrapping or kidnapping Kulbhushan Jadhav, has acquired a human face for painting India as a terror abettor. This is to seek moral equivalence as universally, Pakistan is seen as the abettor of the 26/11 massacre in Mumbai. If Modi government's Pakistan policy rests on redrawing redlines on terror and linking talks to its termination by Pakistan, then the latest chapter in the Jadhav saga defies logic. The ground rules for the wife and mother of Jadhav to meet him in Pakistan are claimed to have been carefully negotiated. But anyone with experience of dealing with Pakistan would have warned that though scheduled in Pakistani foreign office, it would be an army or ISI operation as Jadhav was sentenced by a Pakistani military court and so was their prisoner.
The critical mistake was allowing the two ladies be taken out of the accompanying diplomat's sight, thereby handing control to the real antagonist. The meeting was held in a container modified for a high value prisoner, complete with the bulletproof glass partition and electronic communication. It would not be surprising if this was not obtained from the Americans, who have such contraptions at their bases at Bagram etc. I tweeted within minutes of the news that Jadhav's wife's shoes had not been returned, and that Pakistan was likely to claim it had an implanted electronic device. Pakistani security agencies did not disappoint as that exact story soon emerged. Why did the government's advisers fail to anticipate this and not have a Plan B? If a tantrum had been thrown with a threat to return without seeing Jadhav, it is likely the Pakistani army may have backed off and Pakistani diplomats gained ascendancy in the matter. There are umpteen instances of this working in the past, including some from my experience.
The Islamabad fiasco was followed by two events. One, the statements by External Affairs Minister Sushma Swaraj in both Houses of Parliament. She shrewdly wrapped the issue in nationalistic rhetoric, thereby neutralising the opposition. The other, a revelation that a day after the December 25 non-meeting, the national security advisers of India and Pakistan met as per prior commitment in Bangkok. Logically, this meeting was to build on the positive atmosphere that the Pakistani "humanitarian" gesture was to create. That not having happened implies that either Pakistani NSA, Lt-Gen Naseer Khan Janjuha, was undercut by his former colleagues in Rawalpindi to keep Indo-Pak relations unsettled or he was duplicitous. Either way, NSA Ajit Doval has some answering to do. Induction of retiring foreign secretary S Jaishankar in the PMO would answer that question.
With crucial state elections in Karnataka, Madhya Pradesh and Rajasthan due this year, followed by the Lok Sabha elections, jingoism shall anyway prevail over diplomacy. Pakistan too faces national elections and the army is busy mainstreaming India-specific jihadis while it weighs the consequences of the extremely irate Trumpian tweet, alleging pointedly Pakistani perfidy, that has ushered for Pakistan an unhappy New Year. Post Gujarat election, the BJP's dream of an opposition "mukt" India may be a pipedream. So, too, a terrorism-free India as jingoism is no replacement for diplomacy nor, perhaps, for issue-based electioneering.
The writer is former Secretary, Ministry of External Affairs