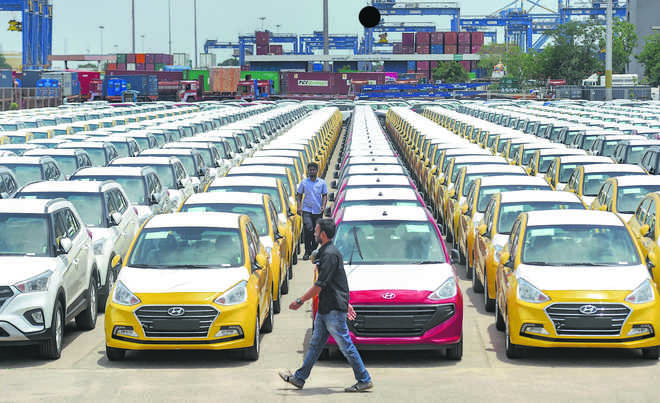 ROBINSINGH@TRIBUNE.COM
New Delhi, September 9
Automobile sales in India witnessed worst-ever drop in August with despatches in all segments, including two-wheelers, continuing to plummet as the sector reels under an unprecedented downturn, industry body SIAM said on Monday.
This is the steepest fall in overall vehicle sales in the country since Society of Indian Automobile Manufacturers (SIAM) started recording wholesale vehicle sales data in 1997-98. As per data released by the industry body, vehicle sales across categories saw a fall of 23.55 per cent (see box). In July, overall auto sales had witnessed its sharpest decline in nearly 19 years, dropping 18.71 per cent to 18,25,148 units last month as against 22,45,223 units in July 2018.
Previously, the worst decline in the segment was registered in July this year when wholesales had fallen 30.98 per cent to 2,00,790 units. The fall in PV sales in August was also the tenth consecutive month of decline. In fact, all vehicle categories witnessed decline in sales during the month.
In the PV segment, market leader Maruti Suzuki India posted 36.14 per cent decline in its August sales at 93,173 units. Hyundai Motor India Ltd (HMIL) also witnessed 16.58 per cent decrease at 38,205 units, while Mahindra & Mahindra posted a fall of 31.58 per cent at 13,504 units during the month.
On the other hand, August retail sales data showed a somewhat better picture in terms of sales, pointing to inventory correction taking place in the industry.
With prolonged slump in sales, automobile and component manufacturers have been seeking GST cut on automobiles to 18 per cent from 28 per cent to help the sector come out of a prolonged slump that has resulted in job losses. The next GST Council meeting will be held on September 20 in Goa. — PTI
Cities